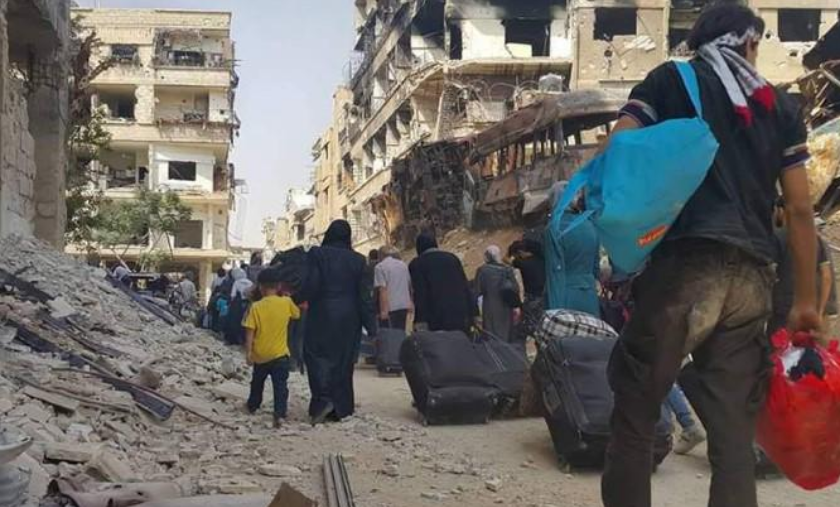 BEIRUT (Reuters) – Thousands of Syrians began returning to Daraya on Tuesday, state media said, for the first time since government forces clawed back the Damascus suburb from rebels two years ago.
The town was one of the major centers of the uprising against President Bashar al-Assad and suffered massive damage during the fighting, forcing most of its people to leave.
Assad's military and its allies regained control of Daraya after years of bitter siege and bombing. Many who did not want to live under state rule left along with rebel fighters under a surrender deal in August 2016.
Civilians and fighters who feared state rule were bussed out to insurgent territory in the north, while others – who most likely are those now returning to the town – were displaced to government territory around the capital.
Displaced people were returning after Daraya was "purged of remnants of the terrorists and the main services were reinstated", state TV said.
State news agency SANA showed pictures of crowds gathering under large government flags and photos of Assad. Behind them, rows of buildings, their windows blown out, appeared pitted with shellholes and showed heavy damage from fighting.
Damascus has described local agreements – accept state rule or leave – as a "workable model to bring security and peace" after more than seven years of war. It says it seeks to restore territory from militants so Syrians can return to their hometowns.
The opposition to Assad however says the deals amount to a policy of forced displacement that aims to shore up his rule.
The United Nations aid chief, Stephen O'Brien, voiced "extreme concern" over the Daraya evacuation at the time it went ahead. But since then several such withdrawal deals have been struck helping the government recapture major cities across Syria.
The conflict has killed hundreds of thousands of people since 2011 and made nearly 11 million Syrians homeless.
Hundreds of thousands of people have poured into Syria's northwest corner, the last remaining insurgent stronghold, forced to abandon their homes elsewhere in the country.
The United Nations has also said the displaced should be allowed to "return voluntarily, in safety and in dignity".
Reporting by Ellen Francis; Editing by Jan Harvey.