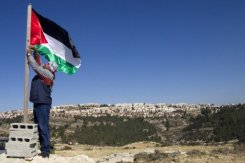 Some 3,000 Palestinians held in Israeli jails were staging a one-day hunger strike Sunday in protest at the death of an inmate, an official said, as Israel's security forces braced for demonstrations.
"About 3,000 prisoners announced that they would refuse meals," Israel Prisons Service spokesperson Sivan Weizman, told AFP. "It's just the meals of one day; three meals."
Arafat Jaradat, a 30-year-old father of two, died suddenly Saturday at Megiddo detention center in northern Israel from what prison authorities said appeared to have been cardiac arrest.
His autopsy was due to take place at Israel's national forensic institute Sunday and Issa Qaraqaa, the Palestinian minister in charge of prisoner affairs, said a Palestinian doctor and Jaradat family members would be present.
After news of Jaradat's death, clashes broke out in Hebron between Palestinian youths and Israeli security forces, witnesses and security sources said.
Media said Israeli security forces were on the standby in case of further demonstrations on Sunday.
"Riot Alert" read the front page headline of Israel Hayom daily, considered close to Prime Minister Benjamin Netanyahu.
"Tension in the security establishment for fear of disturbances and clashes over the death of a Palestinian prisoner," it said.
"The security establishment as a whole and the prisons service in particular are on a heightened state of alert today," said Maariv daily.
The Palestinian Prisoners' Club meanwhile said the number of inmates on open-ended hunger strike had climbed to 11 from four.
Jaradat's death came a day after nearly 100 Palestinians were wounded in clashes with Israeli security forces during demonstrations in the West Bank to demand the release of the hunger strikers.
A statement from the office of Palestinian prime minister Salam Fayyad said Saturday he "expresses his deep sorrow and shock over the martyrdom of prisoner Arafat Jaradat in Israeli occupation prisons."
He "affirms the need to promptly disclose the true reasons that led to his martyrdom," it added.
The Islamist Hamas rulers of the Gaza Strip said the prisoner had died because of "the inhuman conditions in Israeli jails."
Israel's Shin Bet internal intelligence service said Jaradat had been arrested on Monday for his involvement in a stone-throwing incident in November 2012 during which an Israeli had been injured.
"After lunch, as he was resting in Megiddo prison, Arafat Jaradat was taken ill. Medics were called to treat him but they were unable to save his life," it added.
The intelligence service said Jaradat had back aches and had previous injuries, one to the left leg from rubber bullets and one to the stomach from a tear gas canister.
He had been examined several times by a doctor, "who did not find any medical problem. The investigation continued," Shin Bet said.
Israeli police were now probing Jaradat's death, it added.
Israeli rights group B'Tselem said the investigation should look at how he was treated during interrogation and what techniques had been used.
It should be "independent, effective and transparent, and be finalized swiftly", it said in a statement issued late Saturday.
Relations between Israel and the Palestinians are already tense because of a rising wave of protests in solidarity with four other prisoners detained by Israel who have been on hunger strike for some months.
The Ramallah-based Prisoners' Club announced that another seven prisoners had joined them.
"The Prisoners' Club does not know exactly when they started their hunger strike. The lawyers who are going to visit them will get more details," spokesperson Amani Sarahna told AFP.
He said Muna Qaadan, a sister of Tareq Qaadan who has gone without food on and off for several months, was among those who joined the action. She had been freed in October 2011 under a prisoner exchange but since re-arrested.
An Israeli official said three hunger strikers — Qaadan, Jafar Ezzedine and Ayman Sharawrna — were taken to hospitals for protective check-ups on Friday.
The fate of Palestinian prisoners, and in particular the hunger strikers, has sparked protests across the Palestinian territories and raised international concern