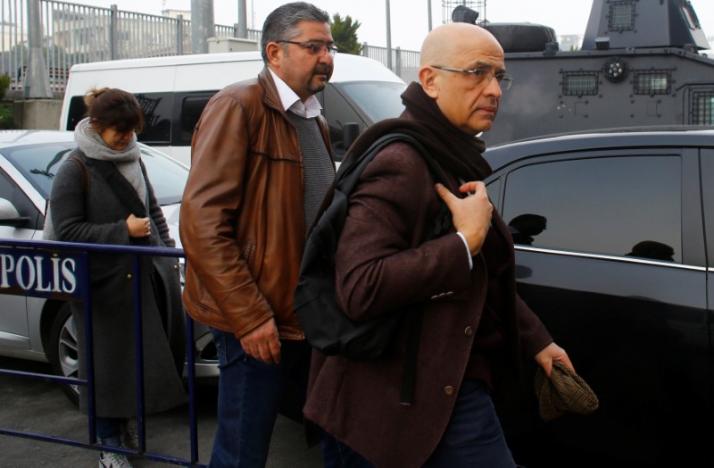 Several thousand people took to the streets of Turkey's two biggest cities on Thursday to protest against a 25-year prison sentence handed down to an opposition lawmaker on spying charges.
A court sentenced Enis Berberoglu, a lawmaker from the main opposition Republican People's Party (CHP), on charges of military espionage on Wednesday. It alleged he gave an opposition newspaper a video purporting to show Turkey's intelligence agency trucking weapons into Syria.
He is the first lawmaker from the secular CHP to be jailed in a government crackdown that followed last July's failed coup. More than 50,000 people have been imprisoned and over 150,000 sacked or suspended from their jobs.
Carrying banners that read "Justice", and waving Turkish flags, crowds demonstrated as CHP leader Kemal Kilicdaroglu started a 425 kilometer (265 mile) march from the capital Ankara to the Istanbul jail where Berberoglu is being held.
Wearing a white shirt and waving at his supporters on the way, 68-year-old Kilicdaroglu embarked on a journey that party officials said could take at least 20 days.
Kilicdaroglu has called the arrest lawless and motivated by the presidential palace, a reference to President Tayyip Erdogan. "Our march will continue until there is justice in this country," Kilicdaroglu told reporters before setting off.
Crowds gathered at a park in the capital to see him off and to protest Berberoglu's imprisonment.
"Erdogan is waving his finger at everyone who is against him," said Nuran, a retired teacher who declined to give her surname. "The arrest was made to send a message but we are not afraid. We will resist until they jail every single one of us."
Nearby, many people held banners, waved Turkish flags and carried posters of Mustafa Kemal Ataturk, the secular founder of modern Turkey, and the CHP.
Police imposed tight security measures at the site of the protest, setting up security barriers, sealing off nearby roads and carrying out searches with bomb disposal teams and dogs. Water cannon and armored police vehicles waited nearby.
Lawmakers Jailed
Eleven lawmakers from the pro-Kurdish opposition Peoples' Democratic Party (HDP) have been jailed over terrorism charges since last year, including the party's two leaders, according to the HDP.
Berberoglu's lawyer appealed against the lawmaker's detention, seeking his immediate release. It was not immediately clear when the court would rule on that appeal.
He has been accused of supplying the Cumhuriyet newspaper with a video it used as the basis of a May 2015 report that alleged trucks owned by Turkey's state intelligence service were found to contain weapons and ammunition headed for Syria when they were stopped and searched in southern Turkey in early 2014.
The government denied accusations that weapons were sent to Syrian rebels, saying the trucks were carrying humanitarian aid. Erdogan later acknowledged the trucks belonged to the state intelligence agency and said they were carrying aid to ethnic Turkmens battling Syrian President Bashar al-Assad and Islamic State.
He accused Cumhuriyet's editor-in-chief Can Dundar and Ankara bureau chief Erdem Gul of undermining Turkey's reputation and vowed Dundar would "pay a heavy price".
Last year, Dundar and Gul were sentenced to at least five years in jail for revealing state secrets in a related case. The prosecutor is now seeking an additional 10 years in prison for the two over the report on the trucks.
Dundar is being tried in absentia after leaving the country. Gul remains in Turkey and free, but his case is in process.
Some 160 journalists are imprisoned in Turkey, according to the journalists union, and authorities have shut down 130 media outlets since the failed coup.
The government says such measures are necessary, given the vast security threats it is facing. Rights groups and some of Turkey's Western allies have voiced concern at the scope of the crackdown, decrying what they say is growing authoritarianism.
Report by Ece Toksabay and Gulsen Solaker; Writing by Daren Butler and Humeyra Pamuk; Editing by David Dolan and Ralph Boulton