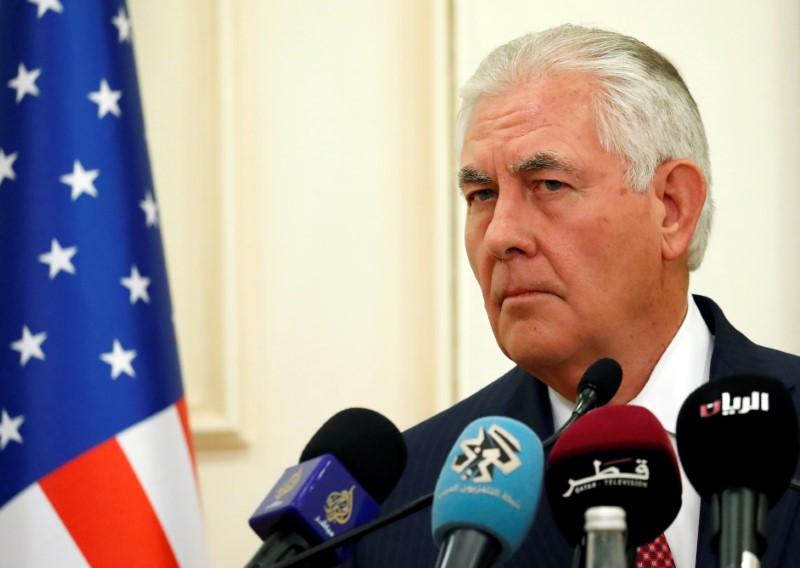 US Secretary of State Rex Tillerson on Monday discussed with Afghan leaders the US strategy for ending America's longest war, in a brief, unreported visit that underscored the challenge of quelling the country's insurgency.
Tillerson spent almost three hours in a heavily guarded building in the main US military facility in Afghanistan, most of the time in talks with President Ashraf Ghani, Chief Executive Abdullah Abdullah and other US and Afghan officials.
A small group of US media accompanying the former ExxonMobil CEO on his first official visit to Afghanistan were prohibited for security reasons from filing dispatches, photographs and video until they returned to Qatar.
While there have been no recent attacks on the airbase by Taliban insurgents, the sprawling facility north of Kabul has been regularly hit since the 2001 US invasion by rockets, mortars and explosives-laden vehicles. A recent visit to Kabul by US Defense Secretary Jim Mattis was greeted by a rocket attack on the city's main airport.
Speaking at a brief news conference after his meeting with Ghani and Abdullah, Tillerson said he would be flying to Pakistan on Tuesday to reinforce the Trump administration's demand that Islamabad move against the Taliban and other extremists based inside its borders or face the consequences.
"We have made some very specific requests of Pakistan in order for them to take action to undermine the support the Taliban receives and other terrorist organizations receive," he said.
US policy toward Islamabad "will be based upon whether they take action that we feel is necessary to move the process forward for both creating opportunity for reconciliation and peace in Afghanistan but also ensuring a stable future for Pakistan," he continued.
Tillerson said he would then travel to India to discuss a request that it expand its economic and development assistance to Afghanistan.