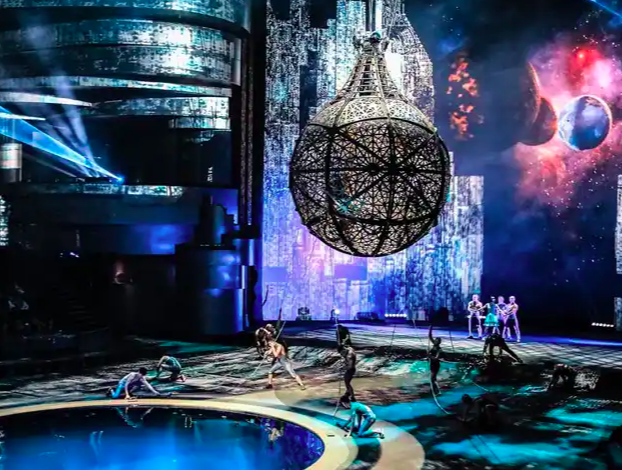 Over the last decade, Dubai has succeeded in preserving its ranking among the top 10 tourism destinations in the globe. 
The city spares no efforts to have you on your toes during your vacation, From jaw-dropping, artistic performances, adrenaline rush activities to charming landmarks, sumptuous cruises, and eccentric shopping experience, your trip will pass in a blink of an eye. 
Here are some attractions and activities that are a must as part of your visit:

La Perle:
Located in the center of Dubai at Al-Habbour City, La Perle features immersive, technological imagery intertwined with dazzling acrobatic performances.
Directed by the highly-acclaimed artistic theater director Franco Dragone, the show recounts the story of a young girl who embarks on a journey in pursuit of a lost pearl. During her voyage, she encounters an array of people who come from various cultures, inspired by the cosmopolitan society of the UAE.    
The auditorium is provided with a 270-degree seating experience, placing audiences at the heart of the live, electrifying performance.    
The show provides intense, artistic creativity equipped with a unique tailor-made aqua theater designed to downpour water from ceiling to ground. Attached by their wrist to high-powered winches, flying gymnasts perform challenging, mind-boggling moves and demonstrate consummate diving skills, jumping from 25 meters high. 
And as if this wasn't enough, a torrent of water rushes into the stage in a blink of an eye as the performers skillfully unleash their talents performing mid-air twists and handsprings. 
The various visual special effects techniques employed throughout the performance are one of the key ingredients to the success of the show, which is sure to leave you with lingering memories. 
The View at the Palm: 
At 240 meters high, enjoy a breathtaking view from level 52 of the Palm Tower overlooking the Palm Jumeirah, one of the world's largest man-made islands. 
Inspired by the national plant of the United Arab Emirates, the date palm-shaped archipelagos which impressively stretch their gigantic scaffold branches into the Arabian Gulf were selected as one of the world's 'must-see architectural wonders' by travel website Expedia. 
The visit also includes The View Exhibition which takes visitors into the journey of designing and structuring the Palm Jumeirah launched in 2001.
A short film and a wide array of spectacular photos of the construction process showcases how the Palm Jumeirah has today become a luxurious, leisure destination for locals and tourists alike.
The View at the Palm also provides a 360-degree view of Dubai's most prominent landmarks among which are Burj Al-Arab, Ain Dubai, Atlantis the Palm, and iconic skyscrapers.
Additionally, you can experience a tranquilizing indoor ambiance in the View Lounge where a refined selection of beverages is served while indulging in the stunning Dubai Skyline. The lounge is also a perfect venue for big events given its unique location and cutting-edge audio-visual devices.
Wrap up your tour by paying a visit to the souvenirs stores offering some unique mementos of your holiday to take back home.
Indoor skydiving:
If you do not have the guts to go skydiving, iFly Dubai provides novices with a safe, supervised indoor flight.
It is an adrenaline rush experience in a controlled tunnel environment. 
Have a blast taking to the air with a highly trained team who give one-to-one training to pick up your skills for a two-minute session.
If you aim to hone your skills further, a 60-minute session is provided to enjoy for an exhilarating experience. 
You can also experience the feeling of taking to the skies using virtual reality devices.
Located in City Center Mirdif, the region's one-of-its-kind activity guarantees that you can get your kicks without having to jump out of a plane.

Marina yacht tour:
If you want to be at the heart of the marvelous view of Dubai's skyscrapers and landmarks, how about a pleasure cruise on a luxury yacht?

While tours are available in the morning, afternoon, and sunset, the perfect time to enjoy the sun dipping into the sparkling Arabian Gulf and feel the cool air embrace you is just prior to nightfall. 
The spacious yacht trip is ideal for friend gatherings, family outings, or just quiet, deep leisure. 
Delicious meals and soft drinks are offered on board to seal the enjoyable experience which lasts for two to three hours. 
Shopping: 
Get ready to spoil yourself and go on a shopping spree in Dubai, renowned for its 'shop till you drop' reputation,

One of the world's biggest shopping hubs,  Dubai offers the likes of Dubai Mall, City Centre Mirdif, Mall of the Emirates, Dubai Outlet Mall, and Souk Al-Bahr and more to empty out your wallet.

Dubai's malls and markets leave nothing to be desired with its plethora of stores provided from high-end brands to budget-friendly items in addition to the best deals on fashion outlets and handmade souvenirs with reasonable prices.