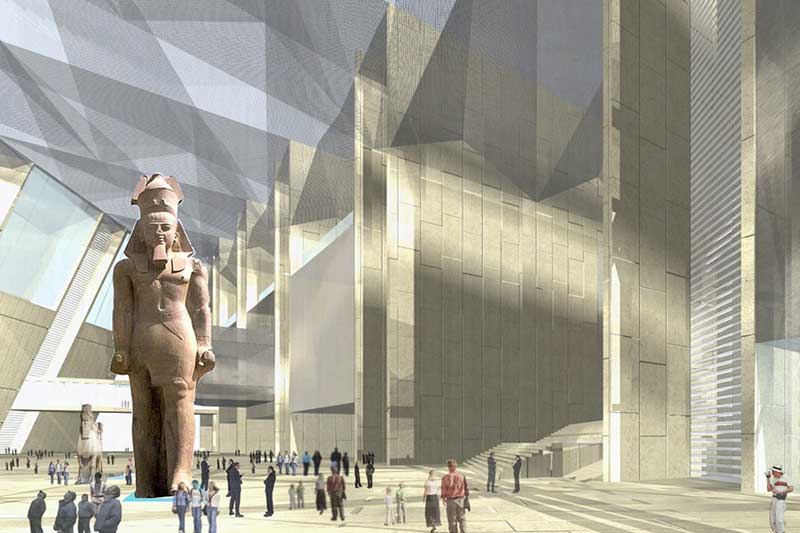 Egypt's Tourism and Antiquities Minister Khaled al-Anani and General Supervisor of the Grand Egyptian Museum (GEM) project Major General Atef Moftah recently met with Talal Omar, the Regional Director of Guinness World Record Middle East and North Africa, with the aim of registering a number of new world records within the encyclopedia under Egypt's name and attracting the international press to the opening of the GEM in 2020. 
The meeting focused on issues related to the archaeological and tourism sectors in Egypt, and the three men also discussed registering new world records for Egypt, especially those related to the much-anticipated Grand Egyptian Museum, hoping to attract global attention to the new project. 
The GEM is set to be the largest museum in the world dedicated to showcasing artifacts from of a single civilization. 
After several years of careful monument examinations, restoration work, and transportation of artifacts, the museum is now expected to house around 100,000 relics from various periods of Egypt's rich history.
Approximately 30,000 of those artifacts will be displayed for the first time at the museum, according to the UK's leading newspaper The Independent.
The GEM also aims to impress with King Tutankhamun exhibits featuring artifacts never before displayed since the tomb was unearthed in 1922.
During the meeting, Omar presented a copy of the Guinness World Records book for 2020 to Moftah and Anani. The book represents a comprehensive annual reference for world records broken threcorded by the organization.
Omar also expressed the readiness of the regional encyclopedia office to provide its full support to Egypt, later touring the new museum and the "suspended obelisk" square while accompanied by Moftah.
The two discussed the possibility of registering a record for the obelisk square, especially since it represents the first of its kind in the world, in addition to talks of a new record for the museum's opening ceremony, which would list it as the largest opening ceremony in history.
Moftah and Omar toured the building housing the Khufu ship at the Giza Pyramids area as well. The boat is set to be transferred to the Grand Egyptian Museum and housed in a separate building, and the two men discussed the possibility of registering another record for the ship as the largest surviving organic object in history.
Omar also presented Moftah with a Guiness certificate on a new record earned by Egypt this year for a mosaic of the famed ancient King Tutankhamun's mask, which was created using 7,260 cups of coffee over an area of ​​60 square meters.
Edited translation from Al-Masry Al-Youm