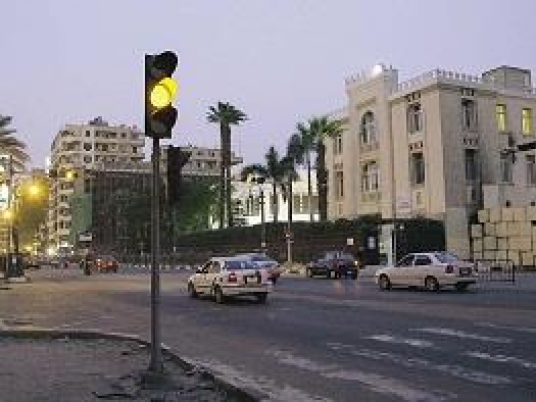 Six months after the installation of electronic traffic lights at Tahrir Square and the surrounding streets in downtown Cairo, they have stopped working.
The damaged traffic lights were not restored nor replaced by traffic police. The same occured in the area of Bab Ellouq, Mohamed Farid Square and Sherif Street where the traffic lights stopped working and were displaying only the yellow caution light. The traffic lights on Ramses Street have been suspended as well.
A street vendor on Mohamed Mahmoud Street, Samir Adel, said, "The traffic lights suddenly stopped working a week ago. They used to record traffic violations, so now people are not abiding by traffic regulations, especially during the peak time."
"All the traffic lights on Ramses Street are suspended which causes congestion all the time," said street vendor Emad Hanna.
Deputy governor for west Cairo Yassin Abdel Bary said the traffic police department is the authority responsible for fixing the traffic lights, not the governorate's local authorities.
The electronic traffic lights system was installed in downtown Cairo six months ago and is supposed to be implemented in other areas of Cairo including Nasr City, Heliopolis, Nozha, Shobra, al-Sahel, Road al-Farag, Maadi, Dar al-Salam and Basatin.
Edited translation from Al-Masry Al-Youm