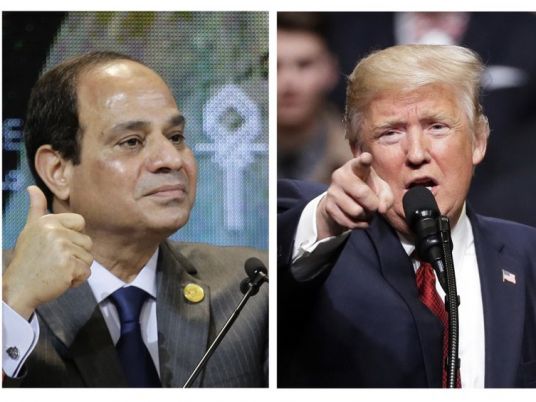 A translation error in US President Donald Trump's speech on military cooperation between Egypt and the US during President Abdel Fattah al-Sisi's recent visit to Washington on Monday caused confusion among the Egyptian press.
At the beginning of his speech, Trump spoke of the United State's support for Egypt, confirming that Egypt and the United States will fight terrorism together and will be friends for a long time.
He demonstrated the importance of this support by addressing the great military potential of the United States, saying that he will raise the US military's capabilities to the highest levels through major deals for aircraft, aircraft carriers and warships.
From this statement, some Egyptian media outlets inferred that Trump has a plan for US-Egypt cooperation through a range of military deals that aim to raise the capabilities of the Egyptian army to the highest level.
The White House held on Monday an Egyptian-American summit between Presidents Sisi and Trump to mark the first visit of an Egyptian president to Washington since 2009.
The two leaders discussed various issues and situations in the Middle East, namely combating terrorism and the need for sustainable development in African countries to be able to fight poverty, ignorance and disease.
In the bilateral meeting, Trump said he has felt close to Egyptian President Abdel Fattah al-Sisi since their first meeting before the US presidential elections.
Trump praised what he called the great work of Sisi under difficult circumstances.
"We stand behind Sisi," said Trump and announced the strengthening of military cooperation with Egypt.
Sisi said he highly appreciates the unique personality of the US president, stressing Egypt's determination to combat terrorism.
They also discussed the situation in Libya, Syria, Iraq, Yemen and Palestine and reviewed Egypt's ability to control matters in these countries.
Edited translation from Al-Masry Al-Youm