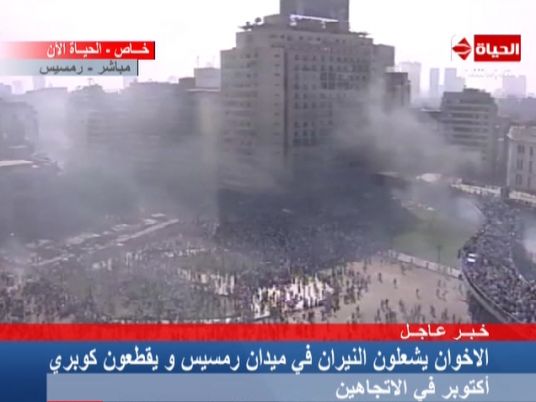 The North Cairo Criminal Court decided on Wednesday to postpone the trial of 62 defendants from the first Ramses events to sessions on the 5, 6 and 9 January.
The court issued the order to listen to prosecution witnesses, examine case documents, and prepare the court hall with equipment in order to be able to show video evidence.
The 62 defendants, supporters of the Muslim Brotherhood, face charges of committing acts of violence and rioting in Ramses square in July following an attempt to break into Ezbakiya police station and target police officers with firearms and birdshot. The defendants were also charged with blocking the road leading to the 6th of October Bridge.
Two people were allegedly killed and nine others were reportedly wounded by the defendants during the large scale riots. Protestors had gathered in Ramses Square and then spread to surrounding areas and the 6th of October Bridge which saw much of the violence.
Edited translation from Al-Masry Al-Youm