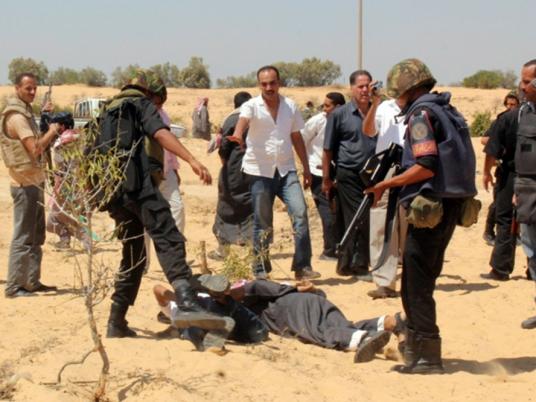 Members of Fawakhreya tribe, in cooperation with other tribes, blocked public squares and main streets, including Al-Faleh, Al-Atalawi and 23 July streets, in Al-Arish city in North Sinai governrate. They set fire to tires and put concrete blocks on roads.
The escalation comes as part of the tribe's confrontation with "Islamic State" (IS) terrorist organization.
IS militants kidnapped Fawakhreya tribe chief Hamdi Gouda, 85, and set fire to a garage belonging to Mohamed Sahmoud, a senior member of the tribe, last week.
The terrorist militia kidnapped Sahmoud himself on Thusday at gunpoint, and held him in Ebny Baytak area, which the tribe's members cordoned off. Violent clashes erupted between both sides, while no casualties were reported.
IS terrorist militias faced off with various tribes in northern Sinai following the kidnapping of several tribal leaders, elders and sheikhs; and the killing of tribe members who cooperate with the security forces.
The events erupted in Al-Arish early last week when IS militants chased a car laden with smuggled cigarettes belonging to a tribal leader in the southern Rafah area, and set fire to it after the driver ran away. The tribe members responded by shooting at IS militia members, killing and injuring some of them.
Several hours after the incident, the IS militants raided the house of a tribesman in Rafah city, blew it up, and kidnapped three tribesmen; while a number of tribesmen besieged the Al-Barth market, south of Rafah, and kidnapped two IS members.