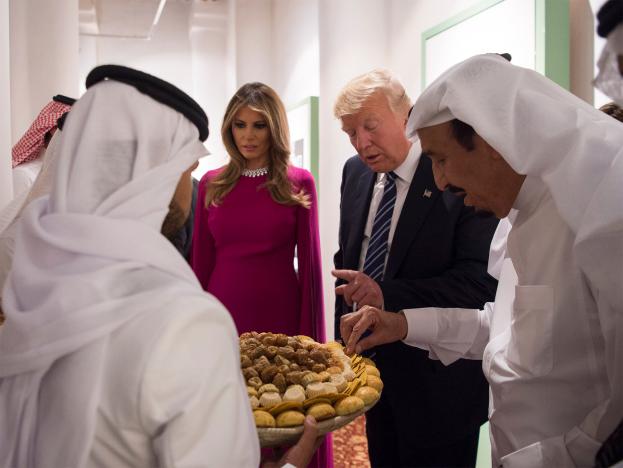 US President Donald Trump, struggling to shake a brewing scandal at home, will attempt a reset on Sunday with the Islamic world after frequently attacking Muslims on the campaign trail last year and trying to ban many from the United States.
Trump's afternoon speech at an Arab Islamic American Summit will include appeals for Muslims to unite against the threat of Islamist militants.
Whether he would use his signature campaign phrase "radical Islamic terrorism" to describe the threat was unclear. His speech was still being worked on late on Saturday, and some advisers were cautioning him against using the term.
Trump started his day in individual meetings with Arab leaders.
He praised Egyptian President Abdel Fattah al-Sisi, telling him, "You have done a tremendous job under trying circumstances." Trump promised to schedule a trip to Egypt soon.
US President Donald Trump meets with Egyptian President Abdel Fattah al-Sisi in Riyadh, Saudi Arabia, May 21, 2017
Separately he told Qatar's Emir Sheikh Tamim Bin Hamad al-Thani they would discuss "lots of beautiful military equipment because nobody makes it like the United States."
In a meeting with Bahrain's King Hamad bin Isa al-Khalifa, Trump declared that the two nations had a lot in common and that despite previous tensions, "there won't be strain with this administration." The king lauded the relationship and said it had led to "great stability in the region and prosperity."
Swords, Beating Drums
Trump also has individual meetings scheduled with the leaders of Kuwait and Oman.
The president on Sunday also will convene the six-nation Gulf Cooperation Council as part of his effort to counter Iran with a NATO-like Arab force.
Trump and the leaders will establish a center aimed at cracking down on the ability of Islamic militants to spread their message.
Trump's Riyadh visit kicks off his first presidential trip abroad, with Saudi Arabia the first stop on a nine-day journey through the Middle East and Europe.
Saudi Arabia's King Salman bin Abdulaziz al-Saud presents US President Donald Trump with the Collar of Abdulaziz al-Saud Medal at the Royal Court in Riyadh, Saudi Arabia May 20, 2017
Trump drew the ire of Muslims during his presidential campaign by calling for a ban on them entering the United States. His attempt early in his presidency to ban people from seven Muslim-majority nations has been blocked by the courts.
The speech comes as Trump tries to escape the fallout from his May 9 firing of former FBI Director James Comey amid accusations he was trying to stop a federal investigation into his campaign's ties with Russia last year.
The New York Times reported Trump called Comey a "nut job" in a meeting with Russian Foreign Minister Sergei Lavrov last week. The Washington Post said the probe had reached into the White House to include a Trump adviser, who was not named.
Trump showed little sign of the pressure during a day of diplomacy on Saturday during which he was warmly welcomed by Saudi King Salman.
At a royal banquet on Saturday night, Trump walked into a colorful spectacle: Men in ceremonial dress and carrying swords chanted in unison to beating drums in a courtyard. Trump, clearly enjoying himself, smiled and swayed, even seeming to dance a little at the center of the group.
A strong wind later blew sand through the area.
US President Donald Trump dances with a sword as he arrives to a welcome ceremony by Saudi Arabia's King Salman bin Abdulaziz Al Saud at Al Murabba Palace in Riyadh, Saudi Arabia May 20, 2017 
Reporting by Steve Holland and Jeff Mason in Riyadh; Editing by Cynthia Osterman and Ralph Boulton
Photo credits: REUTERS/Jonathan Ernst