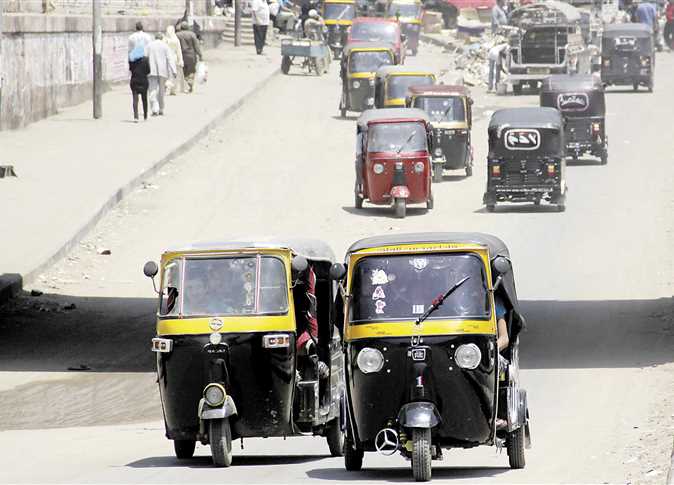 Two weeks ago, the government decided to license vans in Egypt's cities as a public means of transportation, and to ban tuk-tuks in main streets.
Tuk-tuk work in the past has been limited to villages, unplanned areas, and slums, said Spokesperson for the Ministry of Local Development Khaled Kassem.
The government is working to legalize the van as transportation to replace private cars and tuk-tuks, which operate illegally as taxis.
Vans are a very good source of income for families, Kassem said in a phone call on TeN channel Sunday evening.
Tuk-tuks have been banned in all main streets in all governorates, and violators will be subject to sanctions, he said.
The Industrial Development Authority (IDA) has stopped granting licenses for new tuk-tuk assembling and manufacturing plants in Egypt as part of the government's efforts to curb the spread of tuk-tuks on the streets, said an official source from the Ministry of Trade and Industry on Monday.
The source told Youm7 that this decision comes in conjunction with procedures to reduce tuk-tuk imports, adding that five plants for the assembly and manufacture of tuk-tuks in Egypt that have been licensed by the IDA.
The number of licensed tuk-tuks are 211,000, according to Youm7, while the average number of tuk-tuks in Egypt ranges from 2.5 to 3 million, according to the statistics of the Central Agency for Public Mobilization and Statistics.
Former Minister of Trade and Industry Mounir Fakhry Abdel Nour issued a decree in 2014 banning the import of tuk-tuks and their components, but later backtracked on the decision and allowed the import of production inputs and spare parts in accordance to a set of regulations.
In April 2017, former Minister of Industry Tariq Qabeel renewed the decision to banning the import of fully made tuk-tuks. He also decided to export all produced tuk-tuks in free zones and banned their sale on the local market.