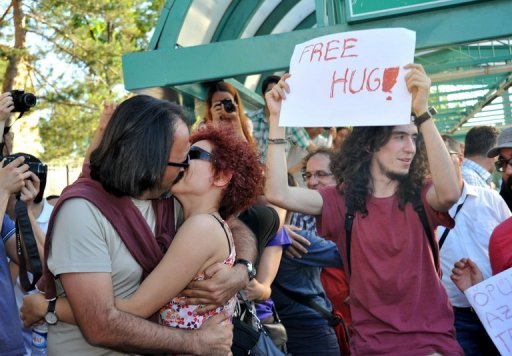 Overwhelmingly Muslim Turkey needs a religious constitution and the precept of secularism should be dropped from the country's new charter, parliament's speaker said, marking a potential rupture with the modern republic's founding principles.
The ruling AK Party, which has roots in political Islam, is pushing to replace the existing constitution, which dates back to the period after a 1980 military coup.
Critics fear a new charter could concentrate too much power in the hands of President Tayyip Erdogan, who wants an executive presidency to replace the current parliamentary system. The government has pledged that European standards on human rights will form the basis of the new text.
"For one thing, the new constitution should not have secularism," parliament speaker Ismail Kahraman said in a speech late on Monday, according to videos published by Turkish media.
"It needs to discuss religion … It should not be irreligious, this new constitution, it should be a religious constitution," said Kahraman.
As speaker, he is overseeing efforts to draft a replacement.
The AKP holds 317 of the 550 seats in parliament and would need 330 votes to submit its draft constitution to a referendum, meaning it must win over lawmakers from other parties.
Kemal Kilicdaroglu, head of the main opposition and secularist Republican People's Party (CHP), tweeted: "Secularism is the primary principle of social peace … Secularism is there to ensure that everyone has religious freedom, Ismail Kahraman!"
NATO member Turkey, which aspires to join the European Union, has long been touted by its Western partners as a model secular, democratic nation with a majority Muslim population.
Kahraman said the current charter was already religious because it declared Islamic holidays as public holidays, even if fails to cite "Allah" once.
Turkey amended its original 1924 constitution four years later to drop Islam as the official religion of the state. Historians consider that measure the basis of the modern, democratic and secular Turkish Republic.
The current constitution does not promote any official religion.
Turkey is overwhelmingly Sunni Muslim, but a fifth of its population of 78 million people is estimated to be Alevi, which draws from Shi'a, Sufi and Anatolian folk traditions. Turkey is also home to about 100,000 Christians and 17,000 Jews.
A Pew survey from 2013 showed 12 percent of Turks want Sharia, a legal framework regulated by the tenets of Islam, to be official law.