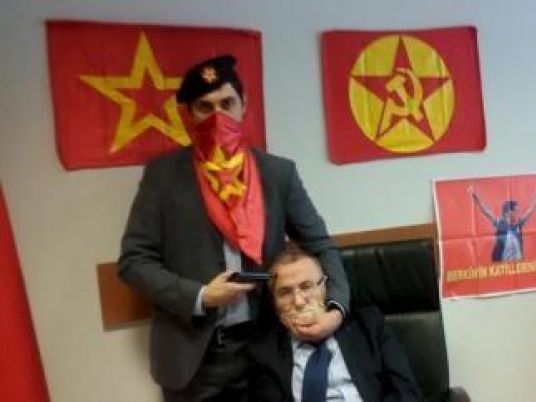 A far-left Turkish group took an Istanbul prosecutor hostage on Tuesday and threatened to kill him, prompting special forces to enter the courthouse and police to evacuate the building.
The Revolutionary People's Liberation Party-Front (DHKP-C) published a picture of the prosecutor with a gun to his head and said it would kill him at 12:36 pm, three hours after gunmen stormed his office, unless its demands were met.
Istanbul police chief Selami Altinok said negotiators were talking to the two hostage-takers after the deadline passed. Turkish television stations meanwhile cut their live broadcasts, some citing a reporting ban.
"We are trying to bring the incident to an end without anyone getting hurt. Negotiators are talking to the assailants," Altinok told reporters.
The prosecutor, Mehmet Selim Kiraz, is leading an investigation into the death last March of 15-year-old Berkin Elvan, who died after nine months in a coma from a head wound sustained in anti-government protests.
The DHKP-C said on its website it wanted the police officer it blames for Elvan's death to confess on television, the officers involved to be tried in "people's courts", and charges against those who attended protests for Elvan to be dropped.
Witnesses said they heard gunshots as the hostage-takers entered the building.
"We were on the sixth floor. A black-haired man wearing a suit entered the prosecutor's room and fired a gun three times," Mehmet Hasan Kaplan, who works in the building, told Reuters, adding that the attackers also claimed to have explosives.
In a brief video message on a widely-followed Twitter account describing itself as that of Elvan's family, the boy's father appeared to call on the group not to harm the prosecutor.
"We want justice. We don't want anyone to shed even a drop of blood. We don't want other mothers to cry," Sami Elvan said.
Prime Minister Ahmet Davutoglu met with current and former interior and justice ministers at the ruling AK Party headquarters in Ankara to discuss the hostage crisis, officials in his office said.
Television footage showed special forces officers entering the courthouse and officials being escorted out. Armed police officers, many wearing flak jackets, surrounded the building and fire engines were positioned outside.
The United States, European Union and Turkey list the DHKP-C as a terrorist organization. It was behind a suicide bombing at the US Embassy in 2013. In 2001, two policemen and an Australian tourist died in a DHKP-C attack in central Istanbul.