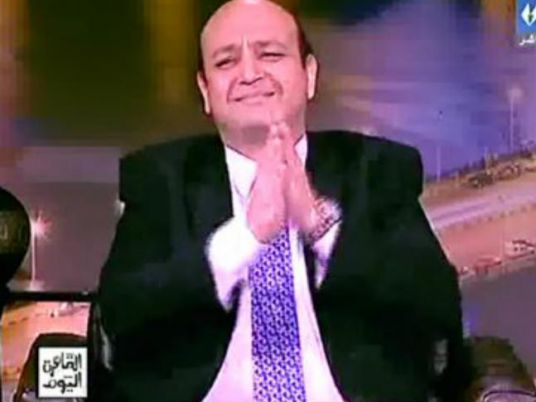 A popular media host has ridiculed an announcement made by an elected parliamentary bloc stating it would propose an extension to the current presidential term of four renewable years to six renewable years.
"I say we better make it 12 or 14 years. Why do not we abandon the Constitution altogether, folks?" Amir Adib said during his show on satellite TV channel Al-Youm. "I have a feeling that you are uncomfortable with the Constitution since we voted for it, let's make a new one," he added.
Adib was commenting on an announcement by the Coalition to Support the Egyptian State, a proposed alliance of parliamentarians designed to maintain a pro-government majority led by the For the Love of Egypt bloc.
"The Constitution has not yet been put into practice. Its amendment can be discussed after practicing it for a while," retired intelligence general Sameh Seif al-Yazal, who leads the FLE bloc, told satellite TV channel MBC Masr on Sunday. "It is only practice that determines the need for amendment…the presidential term can be considered if proposed for discussion."
Observers have seen a tendency to push for a constitutional change that extends President Abdel Fattah al-Sisi's rule since his speech at the Suez Canal University in September. They believe the presidency was seeking to curb the Parliament's powers in a way that ensures it does not overcome the president's.
"The Constitution, with good intentions, is giving vast powers to the Parliament. Countries cannot be managed by good intentions alone," Sisi said during his speech, a few weeks before the elections were held for the House of Representatives.
Edited translation from Al-Masry Al-Youm