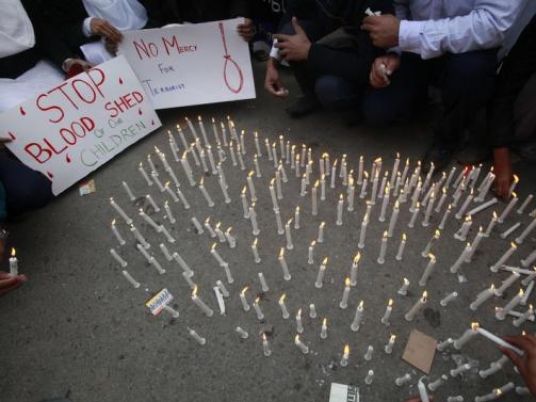 Bombs outside two churches in the Pakistani city of Lahore killed 14 people and wounded nearly 80 during Sunday services, and witnesses said quick action by a security guard prevented many more deaths.
A Pakistani Taliban splinter group claimed responsibility.
The blasts went off minutes apart in a majority Christian suburb of the eastern city. Police said it seemed they targeted two churches, one Catholic and one Protestant, that are very close to each other.
After the blasts, enraged resident lynched two suspects, police said.
"I was sitting at a shop near the church when a blast jolted the area. I rushed towards the spot and saw the security guard scuffle with a man who was trying to enter the church, after failing, he blew himself up," said witness Amir Masih.
"I saw his body parts flying through the air."
The guard died as well, he said. It was not clear if the first blast was also triggered by a suicide bomber, Masih said.
Fourteen people were killed and 78 wounded, said Zahid Pervaiz, provincial director of general health.
"The rescue operation is still underway and the death toll may increase," rescue services spokesman Sajjad Hussain said.
Taliban faction Jamaat-ul-Ahrar claimed responsibility.
Following the blast, enraged residents lynched two men they suspected of involvement, a police official said. Journalist Riaz Ahmed said he had seen the two burnt bodies at an intersection.
Militants in Pakistan have attacked Christians and other religious minorities often over the last decade or more. Many blame the government for doing little to protect them. Pakistan's police are notoriously poorly trained and under funded.
Lahore is the capital of Punjab, Pakistan's wealthiest and most populous province and the political heartland of Prime Minister Nawaz Sharif.
The city is generally considered peaceful compared with many other areas of Pakistan, but violence there has been increasing after the government's failed attempts to hold peace talks with the Taliban last year.
After the talks failed, the military launched an offensive in the remote northwestern region of North Waziristan along the Afghan border to push the Taliban from the last major region they controlled.
The military now holds the major urban centres there, but residents say many militants fled before the offensive began and others remain in rural areas.