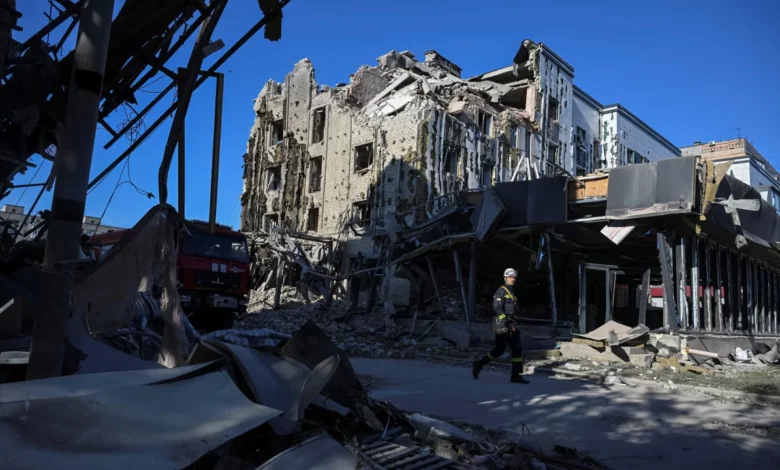 CNN
 —  Two
Russian missiles
hit the eastern Ukrainian city of Pokrovsk within 30 to 40 minutes of each other, killing seven people, including an emergency worker who was responding to the first strike, officials said Tuesday.
The bombardment began at 7:15 p.m. local time on Monday (12.15 p.m. ET), said Serhii Dobriak, a local military leader, when a short-range ballistic missile hit what President Volodymyr Zelensky called an "ordinary residential building" in the eastern Ukrainian city's center.
First responders arrived on the scene to treat the wounded and dig people out from under the rubble, only to be targeted themselves. The second missile struck a nearby popular hotel, though it had been empty for five weeks, according to Dobriak.
"Half of the building is gone, so it's good that no one was inside," he said.
Of the seven killed, five were civilians, said Pavlo Kyrylenko, the head of Donetsk Regional Military Administration.
Speaking to CNN by phone, Dobriak said there were no military targets near the city.
"This is just terror," he said. "This does not intimidate us, but people are dying and suffering."
Dobriak said that all the victims in the attack were either residents, rescue workers or police, including some officers who had been displaced from their homes in Mariupol after the Kremlin bombarded and eventually seized the coastal city. One of the policeman who was wounded had helped people escape from Mariupol, including filmmakers working on a documentary called "20 days in Mariupol."
"He drove us out of Mariupol in his car when the green corridor opened, thus saving us and all the materials that formed the basis of the film," the documentary's director, Mstyslav Chernov, told CNN.
At least 81 people, including seven first responders working for Ukraine's State Emergency Service and 31 police officers, were wounded, according to Kyrylenko. The deputy head of the Emergency Service's Donetsk branch, Andrii Omelchenko, was killed, according to Ukraine's national police.
"All of them were there when they were needed, putting their efforts into rescuing people after the first incoming. They knew there were victims under the rubble – so one had to react, dismantle, get them out and save them. And the enemy struck again," the national police said in a statement.
The second strike prompted authorities to suspend work to clear the rubble due to fear of another strike, despite the widespread damage.
One video Zelensky posted on social media showed a heavily damaged apartment block at sunset, with residents seemingly in shock trying to assess the damage. Another clip showed emergency officials working through the smoke-filled, hazy ruins after what seemed to be one of the missile attacks.
Authorities said the blast radius of the two strikes was "very large," shattering at least 2,000 windows across the city and damaging residences, shops, administrative buildings and the Friendship Hotel. Photographs shared by Ukrainian officials showed the hotel with several floors completely missing.
Debris cleanup had resumed by Tuesday morning. Rescue operations near a damaged five-story residential building were also underway, the State Emergency Service said.
The strikes in Pokrovsk appeared to bear the hallmark of a "double-tap" attack, in which troops conduct a first missile strike, wait, and then a fire a second projectile shortly after, allegedly targeting the emergency works responding to the initial attack.
Russian forces have been accused of carrying out double-tap strikes in both Ukraine and Syria.
A report last year from the Organization for Security and Cooperation in Europe (OSCE) accused Russia of carrying out a double-tap attack in Kharkiv as well as other "clear patterns" of violations of international humanitarian law.
Pokrovsk is located in Donetsk, an eastern Ukrainian region where fighting has been ongoing since 2014, when Russia began backing pro-Moscow separatists in the Donbas region. Donetsk was one of four territories President Vladimir Putin said Russia would annex last year in violation of international law.
CNN's Joshua Berlinger contributed to this report.