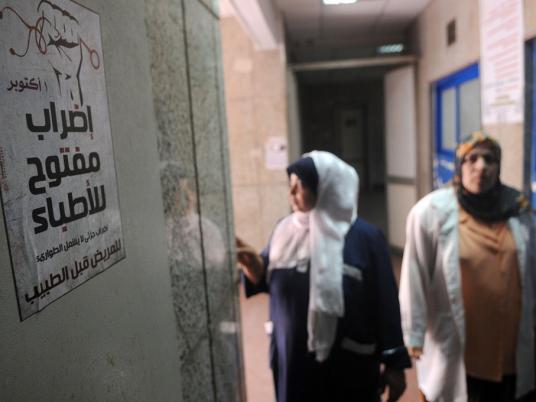 A 43-year old housewife and 34-year old male laborer suspected to be infected with the swine flu virus, known as H1N1, died in Beheira.
The two victims were being treated in hospitals in Damanhour and Kafr al-Dawar. Both were on respirators. Samples were taken from them to be examined at Health Ministry laboratories to test for the presence of the H1N1 virus.
Mohamed Meneisy, Health Ministry deputy, said they were kept in the hospital on 27 January due to pneumonia. After analyzing the samples, the woman tested positive for H1N1, while the results of the worker's test are still pending.
Hospitals at Damanhour, Kom Hamada and Kafr al-Dawar have received eight cases, four of them suspected as patients show symptoms of the virus. Samples have also been taken to be analyzed.
In related news, two people died on Tuesday in Beni Suef with H1N1 as the suspected reason of death, according to medical sources.
The first victim was a 15-year old girl in the village of Ashmant who was admitted into the Medical Insurance Hospital suffering from pneumonia which has similar symptoms to the bird flu.
In addition, a hospital in Beni Suef received a 30-year-old housewife, Hanan Gomaa Amer, from the city of Semesta with what was likely to have been H1N1. She was taken by ambulance to the Abbasiya Hospital in Cairo but died on the way. Her body was then taken back to Beni Suef.
Samira Ibrahim, Head of the Prevention Department in the Medical Insurance Hospital, said that the two cases were believed to have been a result of the H1N1 virus. Samples were taken from them and were sent to the Interior Ministry laboratory, which proved the samples to be negative.
The reason of death, according to Ibrahim, was confirmed by Deputy Health Minister Ahmed Anwar to be respiratory failure in both victims in addition to blood poisoning.
A spokesperson for the Health Ministry had said on Monday that no case of H1N1 has been recorded in Egypt since April 2013.
Edited translation from Al-Masry Al-Youm