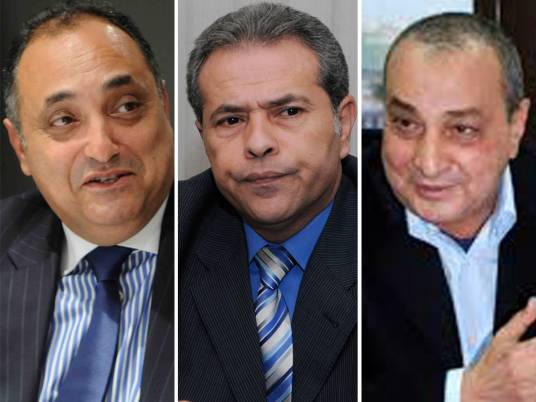 Two Canadians, who had been freed hours earlier on Sunday from an Egyptian prison after 51 days without charge, were about to board a plane when they were told by Cairo airport officials they were unable to leave the country as they have been put on a "stop list."
John Greyson, a Toronto filmmaker and professor at York University, and Tarek Loubani, an emergency room physician from the province of Ontario, were about to board a plane to Frankfurt, Germany, when they discovered Egyptian prosecutors had added them to a list barring them flying, airport officials told the Associated Press.
The two men were originally in Cairo on their way to Gaza where Loubani was to teach a medical course while Greyson was to make a documentary film about it. On 16 August, they decided to visit the "Day of Anger" clashes at Ramses Square, where around 51 people were killed, two days after the Rabaa al-Adaweya sit-in dispersal. Once the pair witnessed the injuries, Loubani began to treat victims of the crackdown while Greyson filmed it.
On their way back from the protests, the two Canadians were stopped at a checkpoint and their passports and belongings were seized. They were subsequently sent to Tora prison where they were beaten and tortured by Egyptian authorities without any charge. According to a statement sent to their families and reported by the Toronto Star, the two men were accused of being "foreign mercenaries."
Following diplomatic efforts, the Candian Foreign Affairs department said Loubani and Greyson had finally been freed from Tora prison on Sunday morning. Reuters spoke to their lawyer, Marwa Farouk, who said the two were freed at 1am and after visiting their embassy, they were supposed to already on a plane back to Toronto.
The Canadian CTV News Channel spoke to Greyson's sister, Cecilia, on Sunday afternoon and said Canadian consular officials were currently trying to jump over bureaucratic hurdles preventing the men from leaving.
"Until they are safely back in Canada we are just going to be a little bit on edge," she told the AP. "We've had contact with them throughout the day today. We're relieved they are out of prison. We're immensely encouraged by that."
She added that Greyson and Loubani were in a safe place, awaiting their approval to leave the country.
Without pressure from the Canadian government, Cecilia Greyson believes her brother could still be in prison. "I think the Ministry of Foreign Affairs worked very hard on our behalf and certainly, the very strong statement that (Foreign Affairs) Minister (John) Baird made at the beginning of the week saying that there would be consequences from the extended detention, I think that really did have an impact," she told CTV.
She said her brother and Loubani are still recovering after being stuck inside a cockroach-infested cell for almost two months, living on juice and water. She told the Toronto Star in a phone interivew that they are "getting back to eating solid food slowly, under a doctor's supervision."