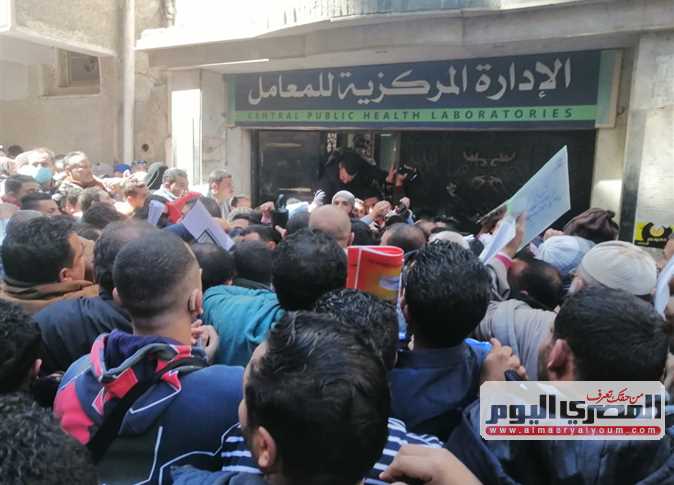 Egypt's Imbaba Fevers Hospital and Abbassia Fever Hospital will begin receiving people wishing to undergo the test for coronavirus, or COVID-19, with 59 cases and one death having been confirmed in the country so far, according to a statement on Monday from the spokesperson for the Egyptian Cabinet Nader Saad.
Some countries, including Saudi Arabia, had ordered that Egyptian nationals obtain a document certifying that they had undergone a coronavirus PCR test and were cleared of the illness before allowing them to enter their territories.
Hundreds of people crowded in front of the Central Public Health Laboratories of the health ministry on Sunday to undergo the test and receive the certificate enabling them to travel.
In a phone-call with Lamis al-Hadidy's TV show "al-Kahera al-Aan" (Cairo Now) on the al-Hadath channel, Saad said the capacity for the two hospitals in Imbaba and Abbasia from Tuesday will be 400 PCR certificates per day.
He added that this will increase by mid-March to 1,000 certificates daily, in order to avoid overcrowding at the Central Public Health Laboratories.
Egypt's Minister of Health and Population Hala Zayed said that travelers wishing to undergo the PCR test can visit a website launched on Tuesday to make an online appointment for the test.
She said that a flight must be booked for the same day as the test in order for the certificate to be valid for travel.
A message with this information appears on the website, which allows visitors to select from a list of dates to schedule their PCR test.
Zayed noted that samples are collected from 12 am to 3 am, and the analysis is performed from 3 am to around 8 am, with review and approval of reports issued between 8 am and 9 am the same day.
She added that the Prime Minister coordinated with the Foreign Affairs Ministry to send a work group to the Central Public Health Laboratories to document the certificates issued, and the Health Ministry will then send those certificates to the relevant embassies directly.
Edited translation from Al-Masry Al-Youm