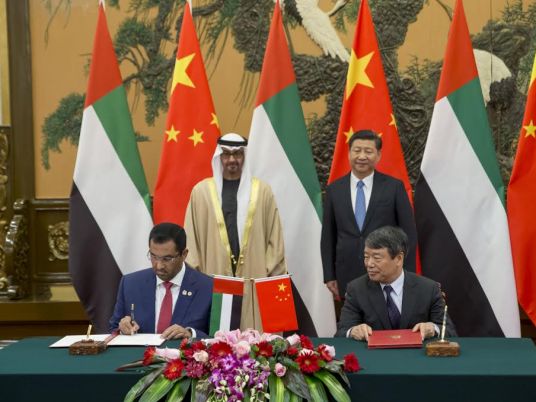 The UAE and China launched a US$10 billion strategic co-investment fund on Monday, to support the development of sectors of mutual strategic interest in the UAE, China and internationally.
Sheikh Mohamed Bin Zayed, Crown Prince of Abu Dhabi, headed a UAE delegation of ministers to China on a three-day visit, Monday, to boost relations between the two countries.
The agreement was signed by Sultan bin Ahmed Sultan Al Jaber, Minister of State, and Xu Shaoshi, Chairman of the National Development and Reform Commission (NDRC), in the presence of Bin Zayed and the Chinese president.
"The formation of this investment fund is a reflection of the growing partnership between the UAE and the People's Republic of China," said Bin Zayed, adding that both countries will step up their cooperation and work more closely to develop their economies.
Chinese President Xi Jinping hoped the fund would deepen strategic and economic relations between China and the UAE, whose bilateral trade is expected to reach $60 billion by the end of 2015.
Bilateral trade between the two countries grew from $63 million in 1984, when the two countries first established formal bilateral diplomatic relations, to $54.8 billion today.
The UAE-China Joint Investment Cooperation Fund, which focuses on conventional and renewable energy, infrastructure, technology and advanced manufacturing, will be managed and operated by Mubadala Development Company, an Abu Dhabi-based investment and development company, China Development Bank Capital (CDBC) and China's State Administration of Foreign Exchange (SAFE).