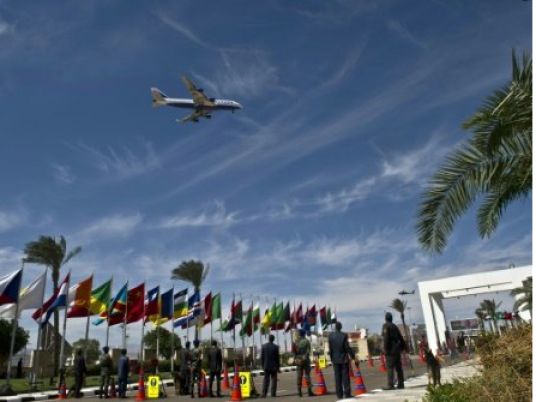 All flights carrying British and Irish passengers home from Egypt were suddenly suspended over fears that Saturday's Russian jet crash may have been caused by a bomb, authorities from both countries announced on Wednesday.
No flights for the UK or Ireland will leave Sharm el-Sheikh on Wednesday night to allow British aviation experts to assess the security situation at the local airport.
The UK government said it was concerned the Metrojet flight that crashed shortly after taking off from the resort town "may well have been brought down by an explosive device".
"In light of this, and as a precautionary measure, we have decided that flights due to leave Sharm for the UK this evening will be delayed," a spokeswoman said on Wednesday evening.
"That will allow time for a team of UK aviation experts, currently travelling to Sharm, to make an assessment of the security arrangements in place at the airport and to identify whether any further action is required. We expect this assessment to be completed tonight."
The spokeswoman said she could not categorically say why the Russian airliner had crashed and said the decision to suspend flights was a "precautionary step".
A meeting of UK security officials to review the intelligence, chaired by Prime Minister David Cameron, started at 1845 GMT.
All 224 passengers on board the Metrojet flight, which was returning to St. Petersburg, were killed when the plane crashed in the Sinai desert on Saturday.
Wreckage was spread over an extensive area and no SOS call was made, leading to speculation that a missile or bomb could have been involved.
On Wednesday evening, civil aviation authorities in Ireland also announced it would also suspend flights from Sharm el-Sheikh.
A short statement said: "The Irish Aviation Authority (IAA) directs Irish airline operators not to operate to/from Sharm el‐Sheikh Airport, Egypt or in the Egyptian Sinai Peninsula airspace until further notice. An update will issue once further information becomes available."
Egyptian President Abdel Fattah al-Sisi was due to arrive in London on Wednesday evening for a previously arranged visit.