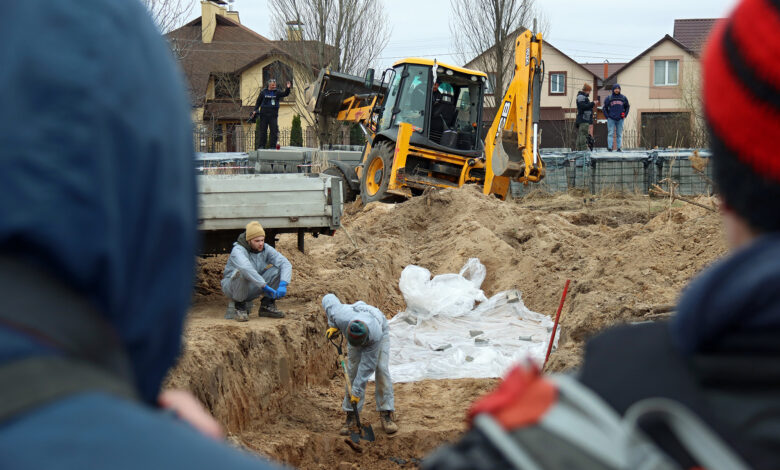 The UK will send a team of war crime experts to Ukraine to help investigate "atrocities" by Russian troops in the country, British officials have said.
They will arrive in Poland next week to meet the Ukrainian government, international partners, NGOs and refugees, according to a statement from the Foreign Office (FCDO).
The aim is to help gather evidence to prosecute Russian war crimes, the FCDO said on Friday.
The team will include experts in conflict related sexual violence, following reports of abuse by Russian forces in Ukraine.
The news comes as UK Foreign
Secretary Liz Truss travels to the Hague on Friday to meet with the International Criminal Court (ICC) President, Judge Piotr Hofmanski. Truss will also work with her Dutch counterpart, Wopke Hoekstra, during her visit to jointly hold Russia to account, the statement added.
"Russia has brought barbarity to Ukraine and committed vile atrocities, including against women," Truss said in the statement.
British expertise will help uncover the truth and hold Putin's regime to account for its actions. Justice will be done."
UK Deputy Prime Minister Dominic Raab also visited the Hague in March to support the ICC's investigations as well as a report produced under the OSCE (Organization for Security and Co-operation in Europe's Moscow Mechanism), which found evidence of torture, rape and forced deportation of more than half a million people in Ukraine.
Some background: The announcement comes three days after the Chief Prosecutor of the ICC, Karim Khan, told CNN that here will be "a case to answer in due course" on Russia's alleged war crimes in the Ukrainian town of Bucha.
"We will get to the truth because there's no place to hide in the courtroom. Whatever the narratives and counter-narratives, the evidence should properly be tested … and there will be — I think — a case to answer in due course," Khan told CNN's Anderson Cooper during a wide-ranging interview, when asked how the ICC might build a case in Ukraine.
Khan made the comments while reviewing images shared with CNN by Ukrainian prosecutors, as they investigate alleged Russian war crimes.