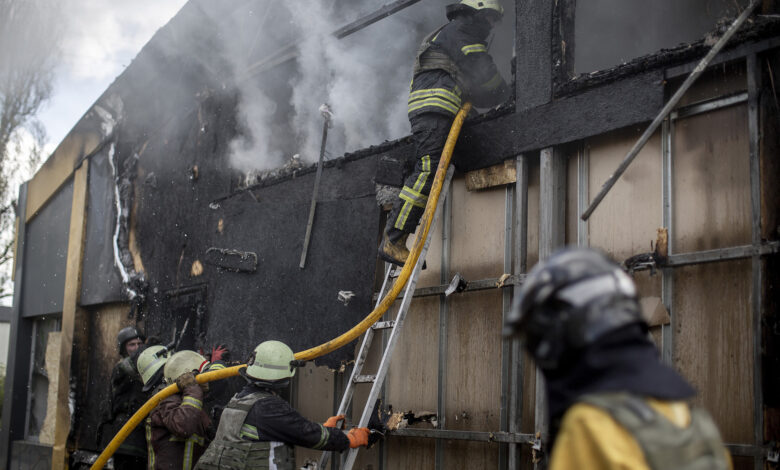 CNN talks to Ukrainians fleeing Russian occupation
Russia's war in Ukraine
By Jessie Yeung, Seán Federico-O'Murchú, Ben Morse, Jeevan Ravindran and Ed Upright, CNN
Updated 7:13 a.m. ET, April 27, 2022
20 min ago
Adviser to Zelensky makes opaque reference to reports of blasts in three Russian regions
From CNN's Tim Lister and Julia Kesaieva
An adviser to Ukrainian President Volodymyr Zelensky has made cryptic references to reports of overnight explosions in regions of Russia bordering Ukraine.
Myhailo Podolyak said that "the Belgorod, Voronezh, and Kursk regions are now also beginning to actively study such a concept as 'demilitarization.'"
In these Russian regions, large fuel depots that provide fuel for the Russian army's armored vehicles periodically burn and ammunition depots explode. For various reasons."
It comes after blasts were heard early Wednesday in three Russian regions bordering Ukraine, local authorities and Russian state media reported.
A blast in Belgorod was followed by a fire at the ammunition depot in the village of Staraya Nelidovka, about 10 miles north of the Ukrainian border, regional governor Vyacheslav Gladkov said on his Telegram on Wednesday.
In the region of Kursk, residents "heard explosions" around 2:45 a.m. local time. The governor, Roman Starovoyt, said the details surrounding the explosions are still "being clarified," but that there were no casualties or destruction.
Two loud bangs were heard by residents in the Shilovo neighborhood of the Russian city Voronezh at 4:40 a.m., according to Russian state media TASS, citing authorities.
Podolyak added: "How can this be explained? Very simply. If you (the Russians) decide to attack another country en masse, kill everyone there en masse, crush peaceful people en masse with tanks, and use warehouses in your regions to provide the killings, then sooner or later the debts will have to be paid back.
"That is why disarming the Belgorod-Voronezh depots is an absolutely natural process. Karma is a cruel thing," Podolyak said.
There has been no acknowledgment by the Ukrainian military or Ministry of Defense that Ukrainian forces were responsible for the latest incidents across the border.
41 min ago
Russia will have "a case to answer" for alleged war crimes in Bucha, ICC chief prosecutor tells CNN
From CNN's Hannah Ritchie in Hong Kong
There will be "a case to answer in due course" on Russia's alleged war crimes in the Ukrainian town of Bucha, the Chief Prosecutor of the International Criminal Court (ICC) Karim Khan told CNN Tuesday.
"We will get to the truth because there's no place to hide in the courtroom. Whatever the narratives and counter-narratives, the evidence should properly be tested … and there will be — I think — a case to answer in due course," Khan told CNN's Anderson Cooper during a wide-ranging interview, when asked how the ICC might build a case in Ukraine.
Khan made the comments while reviewing images shared with CNN by Ukrainian prosecutors, as they investigate alleged Russian war crimes.
Located on the outskirts of Kyiv, Bucha was occupied by Russian forces for roughly three weeks in March. The photos — which were taken from March 5-7 — show the bodies of civilians littered in the streets of several locations around the town.
The Kremlin has denied any involvement in the mass killings of civilians in Ukraine, while reiterating baseless claims that images of bodies on the streets of Bucha are "fake."
Khan addressed Russia's disinformation directly. "Those bodies that are in those bags on the screen are not fake. I've seen them. I stood beside them. The issue is how did they die, who is responsible and in what circumstances?" Khan said, adding that the world was watching to see how "effective the rule of law" would be regarding Russia's invasion of Ukraine.
We need to go forward in a way that's much more effective perhaps than in the past," Khan explained, hinting at jurisdictional issues faced by the ICC. 
On Monday, the ICC joined an EU investigation into possible war crimes committed in Ukraine during Russia's invasion, marking the court's first joint investigation in its twenty-year history.
"The Office of the Prosecutor of the ICC in The Hague will become a participant in the joint investigation team (JIT) on alleged core international crimes committed in Ukraine," the EU's judicial cooperation agency said in a statement.
During a visit to the towns of Bucha and Borodianka in mid-April, Khan said there were "reasonable grounds to believe that crimes within the jurisdiction of the ICC" were being committed there.
But Khan also warned that it would be "challenging" to guarantee justice would be served in Ukraine, given Russia's decision to withdraw its signature from the ICC statute, which gives the court jurisdiction to prosecute individuals for genocide, crimes against humanity, war crimes, and the crime of aggression.
Russia also doesn't extradite its citizens to other countries.
Evidence of mass graves in the towns of Bucha and Borodianka has continued to emerge since early April, following the withdrawal of Russian forces from the Kyiv region.
59 min ago
People flee for their lives from Ukraine's southern city of Kherson
From CNN's Nick Paton Walsh, Natalie Gallón, Maryna Marukhnych and Brice Laine
A steady flow of people have been making their way across fields and rivers dotting southern Ukraine's countryside through the day. As night falls, the crowds swell. They travel on foot, by bicycle, or wheelbarrow.
They are desperate to leave behind the Russian occupation of their hometown, Kherson, and are willing to take — and risk — any route possible out of the city to the rest of the country.
The occupied areas around Kherson — the first to be taken by advancing Russian forces in the opening days of the war — have been terrorized in the past week by both the advancing second phase of Moscow's offensive, but also fears of a referendum on Wednesday.
Ukraine has said Russia plans to hold a vote in the region — widely viewed there as a sham referendum — to try to show popular support for the creation of a new entity called the Kherson People's Republic, which would mirror similar entities in Ukraine's eastern Donbas region. Multiple locals and several Ukrainian officials told CNN the vote had been scheduled for April 27.
Yet the day before, Russian-backed officials announced a series of new government officials in the occupied city, leading some observers to think the referendum may have been postponed in favor of these new appointments.
Ukrainian officials also say Russia is running into trouble over plans to hold a poll as early as Wednesday.
Regardless, fear of the impending vote and its implications — a possible strengthening of Russia's control — has led many residents to flee fast.
Read more here:
1 hr 21 min ago
UK to urge allies to send warplanes to Ukraine
From CNN's Amy Cassidy
British Foreign Secretary Liz Truss will urge Western allies to supply Ukraine with warplanes and other heavy weapons, according to a news release from the UK's Foreign Office published Tuesday.
In a keynote foreign policy speech that she is expected to deliver at London's Madison House on Thursday, Truss will argue the need to "double down" on supporting Ukraine's military.
"We cannot be complacent — the fate of Ukraine remains in the balance," Truss will say, according to the release.
"And let's be clear — if Putin succeeds there will be untold further misery across Europe and terrible consequences across the globe. We would never feel safe again. So we must be prepared for the long haul and double down on our support for Ukraine."
"Heavy weapons, tanks, aeroplanes — digging deep into our inventories, ramping up production. We need to do all of this," she is expected to say.
The global security architecture "that was designed to guarantee peace and prosperity has failed Ukraine" and a "new approach" is needed, Truss will say.
It comes as NATO countries ramp up their military support for Ukraine. In a major policy U-turn on Tuesday, Germany announced it will supply Ukraine with anti-aircraft tanks. Canada and the UK also announced they would supply more heavy weapons on Tuesday.
1 hr 34 min ago
In graphics: The European impact of Russia halting gas to Poland and Bulgaria
Russia has cut off natural gas supplies to Poland and Bulgaria, dramatically escalating its response to Western sanctions imposed on Moscow over its war in Ukraine.
Russian state energy giant Gazprom tweeted Wednesday that it had fully halted supplies to Polish gas company PGNiG and Bulgaria's Bulgargaz after they refused to meet a demand by Moscow to pay in rubles, rather than dollars or euros.
The European Commission described the decision to halt supplies as attempted "blackmail" and said it was coordinating a response among EU member states.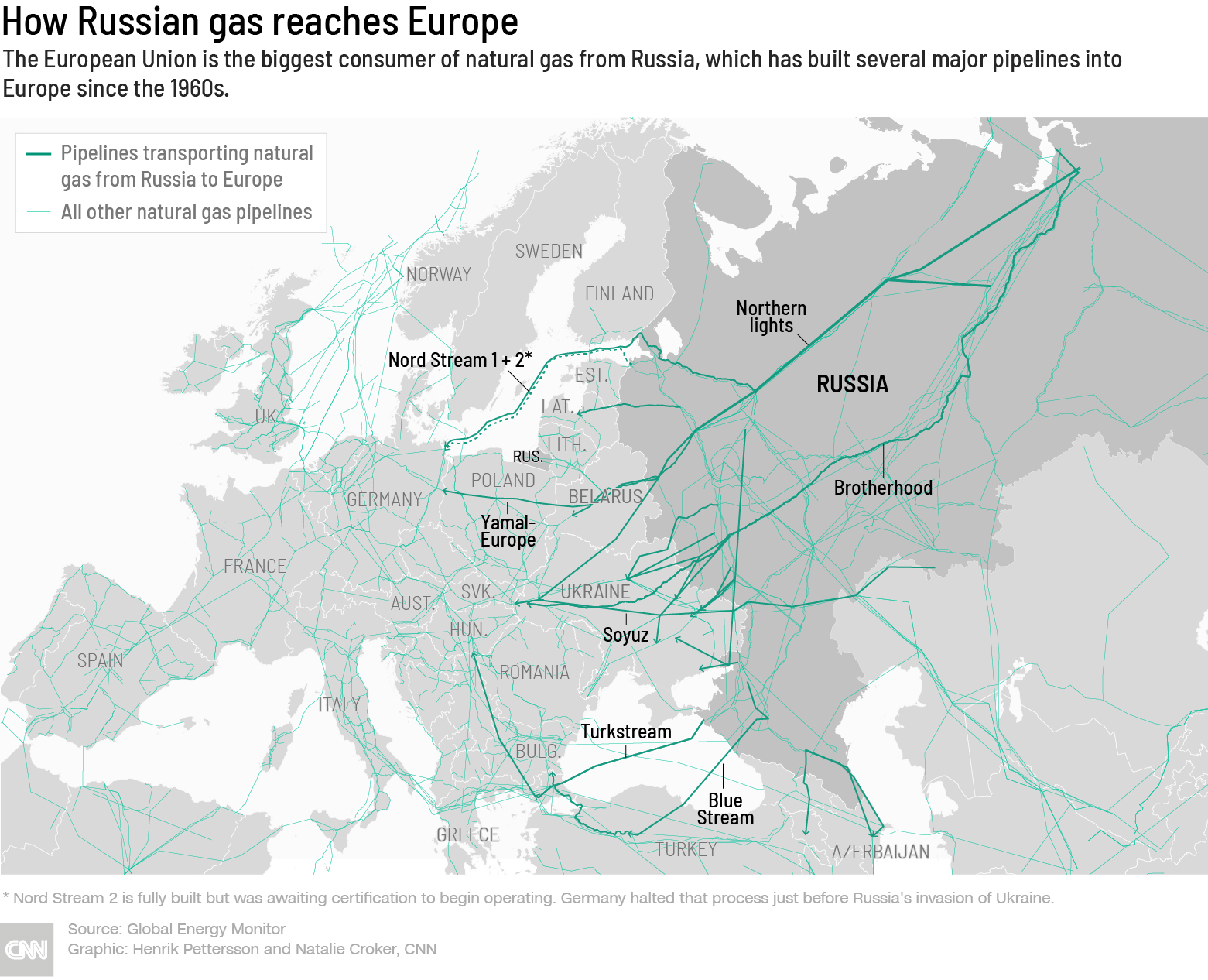 The news sent US natural gas futures up about 3% Tuesday. European gas prices jumped nearly 20% on Wednesday morning, Reuters reported.
But Russia's attempts at using Poland and Bulgaria to send a message to the West and prop up its weak currency are likely to have their limitations.
In preparation for such a situation, European states reliant on Russian gas have been increasing their stored supplies. Polish gas company PGNiG, for example, says the country's stores are 80% full. Europe is also at the end of its heating season, so demand will be low.
Bulgaria typically gets 100% of its gas from Russia, and Poland is almost as reliant, but the two countries don't use that much gas in their energy mix in the first place, largely because they still depend heavily on coal for power generation.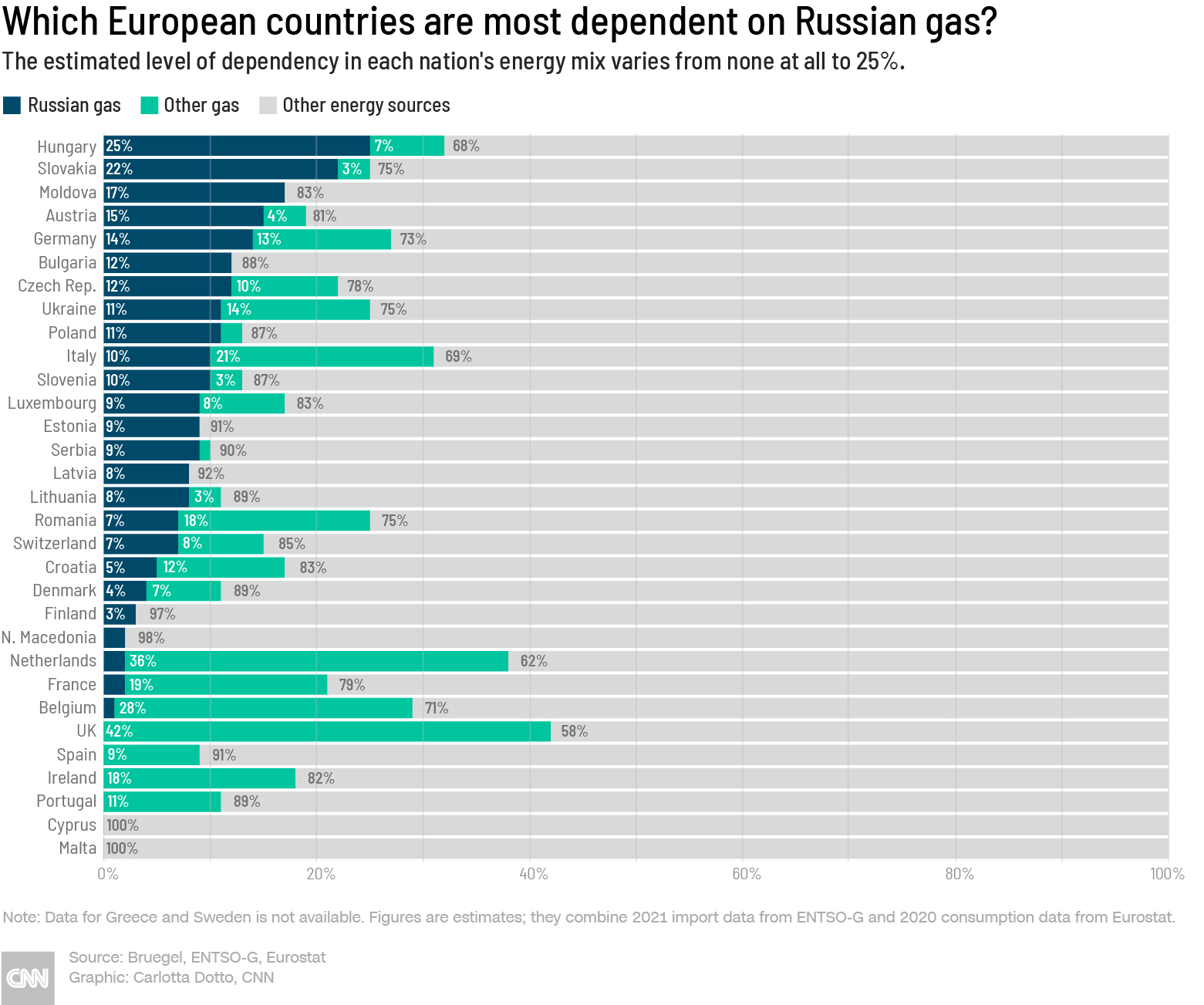 2 hr ago
Ukraine acknowledges losing towns in the east as Russia steps up offensive
From Tim Lister and Julia Kesaieva
The Ukrainian armed forces have acknowledged the loss of several towns and villages in eastern regions as Russia steps up its ground offensive.
Heavy fighting is ongoing on three fronts, with Russian forces being reinforced and resupplied from bases inside Russia, according to a spokesperson for the Ukrainian military on Wednesday.
Despite the loss of territory, Ukrainian authorities said nine enemy attacks were repulsed in the Donetsk and Luhansk regions alone, with Russian equipment destroyed — including nine tanks and 11 artillery systems.
Ukrainian troops are essentially fighting in three directions to prevent Russian forces from taking over all of the Donetsk and Luhansk regions, which has been the Kremlin's declared goal.
From the north, Russian units are attacking in the direction of Barkinove, a town south of Izium, and had taken the village of Zavody which has been contested for several days, the Ukrainian military said.
The Ukrainians also acknowledged that Russians had seized the outskirts of the settlement of Velyka Komyshuvakha in the same area.
From the east, Russian forces have taken control of the town of Zarichne, and have started attacking nearby Yampil.
The spokesman said Russian offensive operations were also focused on the Severodonetsk, Popasna and Kurakhiv areas. Russian troops have also taken control of the settlement of Novotoshkivske, and are trying to advance further westward.
In the south, Russian forces are trying to consolidate a land bridge to Crimea and occupy Ukrainian coastal regions.
The southern command of the Ukrainian armed forces said that Russian units were regrouping and conducting air reconnaissance, and are trying to push north toward the city of Kryvyi Rih and into the Zaporizhzhia region.
It also accused the Russians occupying the region of Kherson of further "filtration" of civilians in two districts.
Reported damage includes energy infrastructure in the town of Zelenodolsk and a severe fire in Dnipropetrovsk.
"The armed forces of Ukraine are showing courage and conducting successful operations," said the head of the Kryvyi Rih city military administration.
He added that Russian prisoners had been taken.