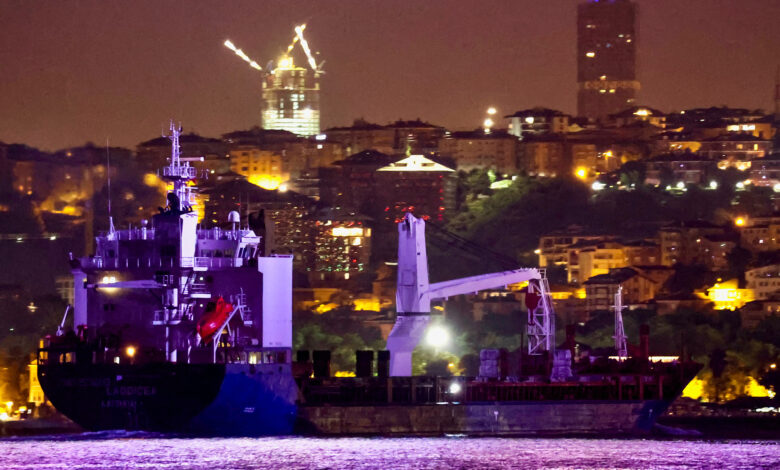 The Ukrainian Embassy in Lebanon has called on authorities to clarify the conditions under which a Syrian ship — which Ukraine claims is carrying stolen barley — was allowed to dock in Tripoli.
The Syrian vessel, the Laodicea, belongs to state shipping company SYRIAMAR and was photographed passing through the Bosporus strait into the Mediterranean on July 23.
Both the company and the vessel were sanctioned by the US Treasury in 2015.
In a meeting with Lebanese President Michel Aoun on Thursday, Ukrainian Ambassador Ihor Ostash "drew the attention of the President of the Republic to the fact that a Syrian ship entered the sea port of Tripoli on July 27, 2022 carrying barley exported from the occupied territories in the port of Fyudosia," the embassy said in a readout posted on Facebook on Thursday.
"He also expressed his hope that measures will be taken to clarify the conditions of this ship's docking in Lebanese territorial waters," the embassy added. "It has also been confirmed that this incident can damage bilateral relationships."
The Laodicea was photographed transitioning through the Bosporus on July 23.
Some background: Ukraine has repeatedly said that Russia has taken grain from the country to ports around the Middle East. In May, satellite images appeared to show two Russia-flagged bulk carrier ships docking and loading up with what was believed to be stolen Ukrainian grain in the Crimean port of Sevastopol.
Last week, Ukraine and Russia agreed a deal to allow the resumption of grain exports from Ukrainian Black Sea ports. Ministers from both countries signed the agreement brokered by the United Nations and Turkey in Istanbul.