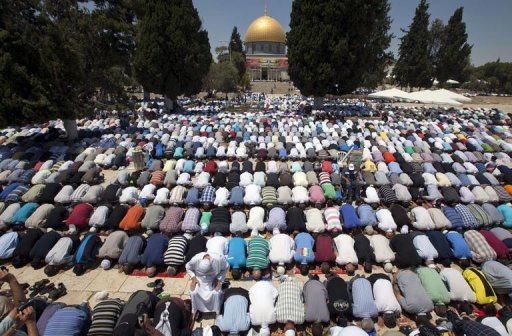 The UN's cultural body approved a resolution from a group of Arab states on Wednesday criticising Israel for failing to protect heritage sites and rebuild regions destroyed by war.
The final version of the draft resolution was changed at the last minute to remove a controversial clause saying the Western Wall in Jerusalem, the holiest site at which Jews can pray, is an "integral part" of the Al-Aqsa mosque compound.
Israel had denounced the clause as "a clear endeavour to distort history" and on Wednesday criticised the new resolution.
The flashpoint compound, which is considered sacred to both Islam and Judaism, is located in the southeastern corner of the Old City in Israeli-occupied east Jerusalem.
Muslims call it Al-Haram al-Sharif (the Noble Sanctuary) while Jews rever it as the Temple Mount which housed the First and Second Temples.
Clashes between Israeli police and Palestinian protesters at the compound in September are widely thought to have led to the current wave of deadly violence in Israel and the Palestinian territories.
The resolution approved on Wednesday — which was drafted by Algeria, Egypt, Kuwait, Morocco, Tunisia and the United Arab Emirates — condemns Israeli actions at the compound, including restricting access to Muslim worshippers during Eid celebrations last month on security grounds.
It was supported by 26 of the 58 member countries on UNESCO's executive board, while 25 members abstained.
It was opposed by six countries: the United States, Britain, Germany, the Netherlands, the Czech Republic and Estonia, and one member was absent.
The resolution "deeply deplores the recent repression in East Jerusalem, and the failure of Israel, the Occupying Power, to cease the persistent excavations and works in East Jerusalem particularly in and around the Old City."
It also calls for the "prompt reconstruction of schools, universities, cultural heritage sites, cultural institutions, media centres and places of worship that have been destroyed or damaged by the consecutive Israeli wars on Gaza."
The new resolution was criticised by Israeli Interior Minister Silvan Shalom, who was on a visit to Paris at the time.
"UNESCO is a very, very hostile organisation towards Israel. Unfortunately most of the votes are against Israel," Shalom told a press conference, referring to the fact that Arab states frequently team up for resolutions against the country.
He said Israel would remain firmly opposed to the idea of introducing new inspectors at the Temple Mount, as demanded by previous resolutions.
"We are the ones who keep the status quo there," said Shalom. "We give full access to everyone to go to their own holy sites.
"We can realise what would happen if it went into the hands of the Palestinians, like what happened recently in the tomb of Joseph which was burned two times in the past week and the Palestinians are in charge," he added.