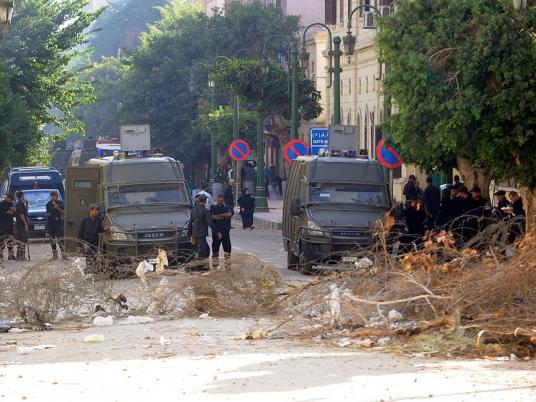 Security forces have arrested 118 protesters since Monday in ongoing clashes near the Ministry of Interior, the ministry said in a statement on its Facebook page Wednesday morning.
Those arrested will be interrogated about why they took part in the protests and who the instigators were, the statement said.
Clashes escalated Tuesday night near Mohamed Mahmoud and Youssef al-Guindi streets, which both link Tahrir Square to the ministry building. Protesters hurled Molotov cocktails at police and security forces, who answered with tear gas canisters.
The protesters were commemorating the anniversary of the November 2011 clashes that raged for days on Mohamed Mahmoud Street after police forces forcibly cleared the square of protesters demonstrating against the then-ruling Supreme Council of the Armed Forces.
Al-Masry Al-Youm had reported that 11 suspects involved in the incidents were detained for four days pending investigation, while 13 others were released and nine minors were sent back to their families.
Those arrested have been accused of rioting, assaulting police forces and damaging government facilities.
The Health Ministry announced Wednesday that 104 people have been injured since Monday. Assistant Interior Minister Ahmed Helmy has said that no deaths have been reported.
Ministry official Khaled al-Khatib said the injuries ranged from cuts and bruises to birdshot wounds, Al-Masry Al-Youm reported.
The head of Cairo University hospitals said Gaber Salah, a member of the April 6 Youth Movement, is still in a critical condition with little hope of recovery.
"Gaber sustained a gunshot to the brain as well as other shots in the chest," he said.