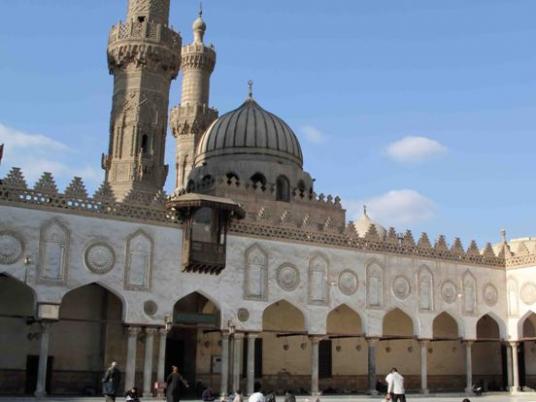 Close to 10,000 residents of Luxor and nearby governorates demonstrated in Sidi Abou al-Haggag Square in Luxor after Friday prayers today, showing their solidarity with Al-Azhar Grand Sheikh Ahmed al-Tayyeb.
They denounced what they called "plots against the Al-Azhar institution to bring it under Muslim Brotherhood control," and marched around the streets of Luxor.
A stage was set up in the middle of the square. A speaker on the stage warned that thousands of Luxor residents would head to the Al-Azhar Mosque in Cairo to fight against any attempts to remove Tayyeb from his position, even if it meant resorting to armed confrontation. His declaration was met with applause.
Several marches from the main mosques around Luxor headed to the square after prayers. The marches were organized by opposition parties, including the National Salvation Front, the Popular Current, the Union of Luxor Young Copts and several other revolutionary and secular movements.
Protesters chanted slogans in support of Tayyeb and against the Brotherhood, including "Blood and soul, we sacrifice for you, Tayyeb," and "Oh Imam, we are with you against the Brothers," "Oh Badei, Al-Azhar will not be lost.
Tayyeb is a Luxor native, born in al-Qarna City in 1946.
In Mansoura, dozens demonstrated outside the Al-Azhar central administration offices in the Daqahlia Governorate after Friday prayers today to show their support for Tayeb after recent criticisms levied against him following the poisoning of hundreds of Al-Azhar University students.
Demonstrators chanted slogans in support of Tayyeb and against the Muslim Brotherhood, raising banners that read, "We support you Tayyeb," "No to interference in Al-Azhar's affairs," and "Tayyeb, hold your head up high."
They accused the Muslim Brotherhood of attacking the institution of Al-Azhar, and attempting to gain control of it in the wake of the food poisoning incident. The denounced demands for Tayyeb's dismissal due to the incident.
The protesters joined similar demonstrations in Cairo, where hundreds marched from Hussein Mosque to Al-Azhar after Friday prayers o demonstrate their support for Tayyeb, and criticize what they called the "Brotherhoodization" of the Islamic institution.
Central Security Forces, policemen and military police forces were deployed to the area. Some security personnel opened the doors of the building to the protesters.
The demonstrators chanted for the fall of the Muslim Brotherhood, as well as slogans including, "Al-Azhar is moderate, sukuk (Islamic bonds) are not Islamic," and "The Al-Azhar Sheikh is not to be humiliated."
Dozens of uniformed Al-Azhar scholars joined the protesters after the march arrived. They said they were participating in the demonstration to support Tayyeb against what they alleged was a vicious Brotherhood plot to oust him.
Abdel Mohsen al-Mohamadi, a member of the preachers syndicate, accused the Muslim Brotherhood of masterminding the recent food poisoning of hundreds of Al-Azhar University students to topple Tayyeb and control gain control of Al-Azhar, which he claims opposes Brotherhood policies.
Edited translation from Al-Masry Al-Youm