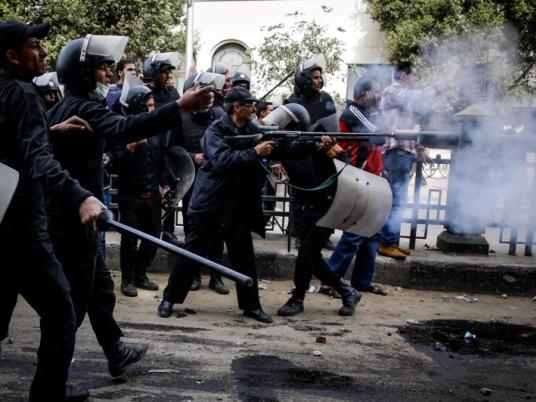 The Salafi Watan Party commended Dostour Party head Mohamed ElBaradei for his proposal of a dialogue between President Mohamed Morsy, Defense Minister Abdel Fattah al-Sisi, Interior Minister Mohamed Ibrahim, and representatives from the Freedom and Justice Party, Salafi parties and the National Salvation Front.
The party's vice president, Youssry Hammad, said that the party welcomes calls for dialogue and unity, adding that "any patriotic figure must accept the idea."
"We value ElBaradei's call for dialogue and emphasize respect for constitutional legitimacy," he added.
The offers of dialogue came as MENA quoted the Health Ministry as saying that two protesters had been killed in ongoing clashes with security forces in Cairo Wednesday.
The Brotherhood also welcomed ElBaradei's call for dialogue and Ahmed Aref, its official spokesperson, said, "We hope to engage in all forms of dialogue for the sake of the nation and under the auspices of the presidency," and added that political powers "should not consider the president a political opponent."
Amr Moussa, president of the Congress Party and a member of the National Salvation Front, had earlier called for a "comprehensive political truce" on Wednesday. In a statement posted on his Facebook page, Moussa asked key political leaders to heed the state-led National Defense Council's invitation for talks to end the violence.
The NDC, led by Morsy, held a meeting on Saturday following the breakout of clashes nationwide Thursday during protests commemorating the 2011 uprising. In an attempt to ease the country's current political gridlock, the council called on leading political figures to participate in the dialogue with Morsy.
Moussa's comments come after the National Salvation Front rejected Morsy's national dialogue offer on Monday, dismissing the offer as "not serious." However, ElBaradei also called for an urgent meeting Wednesday, saying on Twitter that Morsy, Islamists, NSF members and government officials should come together.
Aside from the two deaths, another 52 have been injured in Cairo, Kafr al-Sheikh and other governorates since Tuesday night, officials have said. Fighting around Tahrir Square was responsible for 28 of the injuries, while 18 other people were injured in Kafr al-Sheikh. Meanwhile, three victims of clashes in Ismailia's Mamar Square were also taken to hospital. Two more were hurt in Daqahlia and one in Sharqiya.
Since last week, at least 53 people have died in the violence. Fighting continued Wednesday near Tahrir Square.