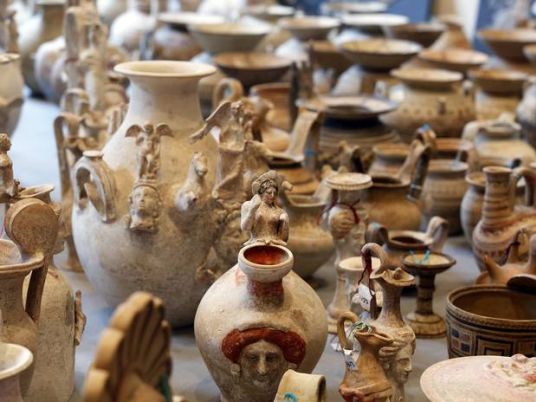 The United States returned 25 stolen artefacts to Italy including ancient vases, frescoes and manuscripts that had been illegally removed and found in museums, auction houses and private collections, police said on Tuesday.
The haul is the latest in a string of art repatriations coordinated by an Italian police squad dedicated to tracking down stolen artefacts, often dug up illegally from the country's numerous ancient sites by thieves who smuggle them abroad.
The 25 pieces included a 2,500-year-old Etruscan vase decorated with dolphins, a marble sarcophagus found on sale at a New York gallery for US$4.5 million, and parts of frescoes believed to have been stolen from the site of the ancient city of Pompeii.
The police squad said in a statement that the 25 "extraordinary examples of Italian art" were recovered through close collaboration with the US Department of Homeland Security.
The artefacts were found in various places in the United States, including museums in Ohio and Minneapolis, and destined for sale at New York auction houses Sotheby's and Christie's, which had been given false information about the provenance of the pieces.
The police statement said some of the pieces returned had been taken out of Italy by "known art trafficker" Giacomo Medici, and that others were linked to an investigation into artefacts illegally exported by dealer Gianfranco Becchina.
Several of the pieces were returned "spontaneously" when the people in possession found out they had been stolen, the statement said, but one gallery resisted, leading to what police described as a tough legal battle.