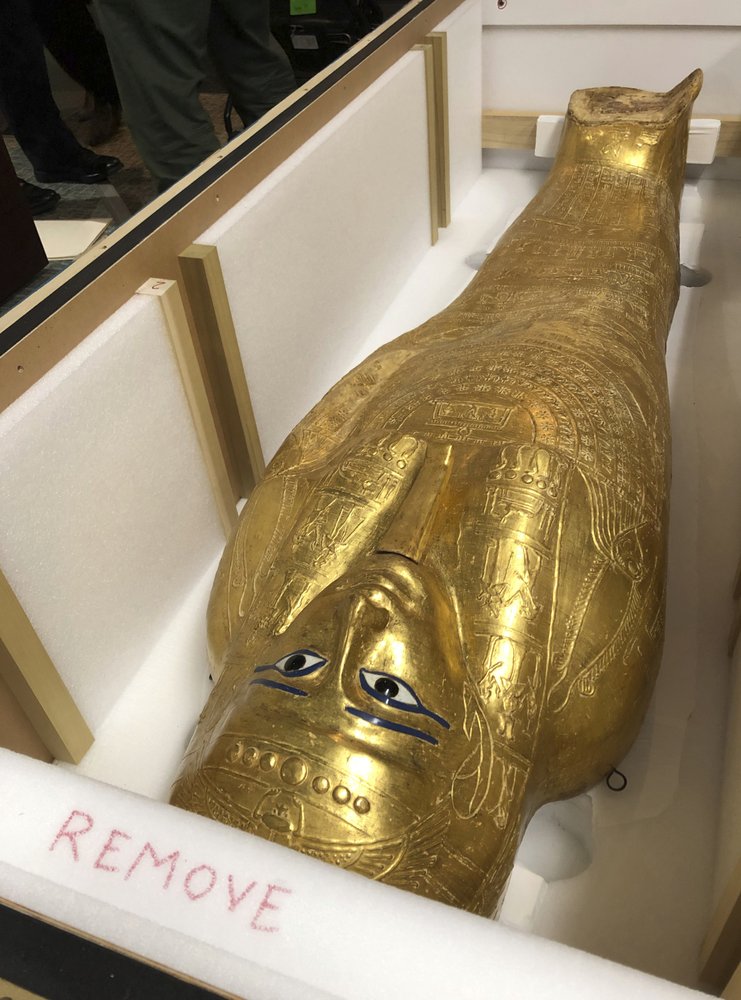 US authorities returned to Egypt the stolen coffin of Nedjemankh, obtained by New York's Metropolitan Museum of Art two years ago, on Wednesday, 25 September at a repatriation ceremony in New York.
The 2,100-year-old smuggled coffin was displayed as a centerpiece in an ancient Egyptian exhibition that ran for nearly six months. The Metropolitan Museum acquired the looted coffin through an artifacts dealer presenting fabricated documents at cost of US$4 million during the aftermath of the January 25th Egyptian revolution, according to BBC.
US authorities revealed that one of the false documents that deceived the prestigious American museum was a fraudulent Egyptian export license, according to BBC. They further stated that the trafficked piece was located in its original burial tomb in Egypt's Minya before leaving its motherland.
After its departure from Egypt, the ancient Egyptian priest coffin went on a long journey, passing through the UAE, Germany and France before arriving in the US, according to statements issued by US prosecutors to Reuters.
"This is not only for Egyptians; this is for our common human heritage," Egyptian Minister of Foreign Affairs Sameh Hassan Shoukry said, stressing the importance of penalizing whoever is behind these illegal practices in order to preserve Egyptian heritage.
The Egyptian Minister additionally declared that the recently refunded coffin will be showcased in Egypt in 2020.
An official statement released by the Egyptian Minister of Foreign Affairs on Wednesday, September 26 said that the coffin's return took place in light of the 2016 joint agreement between the two countries (Egypt and the US) regarding the protection of Egyptian antiquities.
The statement added that the arrangements between the two concerned authorities in the two countries to return the coffin took nearly an entire year.
Photo credit: AP