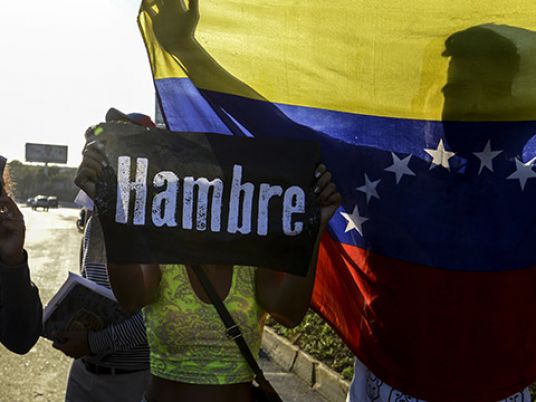 Venezuela's opposition lawmakers said on Sunday they will push for the removal of Supreme Court judges whom they accuse of acting on behalf of the ruling Socialists after the top tribunal briefly assumed control of congress last week.
While the move by the opposition-led congress would only be symbolic because it remains powerless, it could add to pressure on unpopular president Nicolas Maduro as he tries to defuse the furor over what critics saw as a lurch into dictatorship.
The Supreme Court's ruling last week that it would take over functions of the National Assembly triggered international condemnation and opposition protests at home.
Even the country's attorney general, a longtime government ally, said the decision was unconstitutional in a rare public rebuke from Maduro's ranks. On Saturday, at the request of the government, the Supreme Court eliminated the offending ruling.
But Maduro opponents said no one should believe that row- back meant democracy had been restored in the nation of 30 million people with the world's largest oil reserves.
"Despite a supposed retraction by the government after creating a coup d'etat, and apart from the clarification by the Supreme Court, the coup persists," lawmaker Juan Matheus said on behalf of the opposition.
"The rupture of the constitutional order continues," he added at a news conference inside the legislative building, flanked by pro-opposition legal and constitutional experts.
Matheus said they will begin proceedings to remove the judges on Tuesday but he did not give further details.
Since the opposition won a majority in congress in late 2015, the court has issued a raft of rulings backing Maduro and overturning most of the assembly's measures, meaning legislators remain effectively powerless.
Maduro, who narrowly won election to replace his late mentor Hugo Chavez in 2013, said any constitutional controversy is over after he convened a special security committee over the weekend that instructed the Supreme Court to rectify the ruling.
"Every country has its problems and resolves them peacefully, constitutionally," he said on his weekly television show, "Sundays With Maduro," adding that the government's resolution of the crisis had been "impeccable."
He has sought to portray himself as a statesman above a conflict between institutions, but critics said he and the ruling Socialist Party were pulling the strings on judicial bodies stuffed with stalwarts.
Stung by the international outcry, including an unprecedented wave of statements from around Latin America, Maduro alleged he is the victim of a US-led smear campaign intended to lay the groundwork for a coup against him.
"Venezuela demands respect from the entire world in order to continue living in peace. Nobody need get involved in Venezuelan issues," Maduro added.
OAS Debates Venezuela

Maduro's far more popular predecessor Chavez, who ruled Venezuela from 1999-2013 before dying of cancer, was briefly toppled in a 2002 coup but came back 36 hours later when supporters poured onto the streets and military factions came to his aid.
Critics said it is not only the sidelining of an elected body, but also the jailing of scores of opponents, postponement of local elections last year and thwarting of a referendum on Maduro that evidence Venezuela's democratic erosion.
Socialist Party officials, who were proud of the legitimacy bestowed by constant election wins under Chavez, have detailed their justifications for all those actions, saying opponents have broken the law and used fraud in the 2016 referendum drive.
While attention often focuses on the headline-grabbing polemics between opposition and government, analysts believe any potential near-term change may come instead from ruptures within the administration or a nudge from the powerful military.
Foreign pressure is mounting too.
Also In World News
Rescuers, locals dig for Colombia flood victims, 254 die
Trump presses China on North Korea ahead of Xi talks
Under Chavez, Venezuela led a resurgent leftist bloc in Latin America, but shifts to the right in Argentina, Brazil, Peru and Paraguay have changed that dynamic.
The Organization of American States (OAS), whose head Luis Almagro is a hate figure for Maduro's government and wants it suspended from the bloc, was due to meet on Monday to debate Venezuela.
The week's events have seen instability re-emerge on the streets of Venezuela, with pockets of protesters clashing with security forces who have fired teargas several times.
There appears to be little appetite within the opposition for renewed mass rallies which have failed time and time again during the nearly two-decade rule of the socialists.
The opposition's main demand is for the next presidential election, slated for December 2018, to be brought forward.
Maduro, a former bus driver, foreign minister and self-declared "son" of Chavez, was elected with around 50 percent approval ratings, but has seen those plummet during an economic crisis.
Basic foods and medicines are often scarce, inflation is the highest in the world and there are long lines at many shops.
Critics blame a failing socialist system, while the government says its enemies are waging an economic war. The fall in oil prices since mid-2014 has exacerbated the crisis.
Additional reporting by Diego Ore and Deisy Buitrago; Writing by Andrew Cawthorne and Girish Gupta; Editing by Phil Berlowitz; Reuters