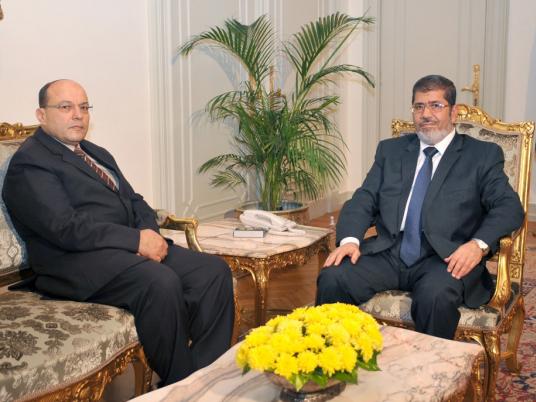 The Cairo Court of Cassation ruling on Wednesday annulled the presidential decree appointing Talaat Abdallah as Egypt's prosecutor general, after sacking his predecessor Abdel Meguid Mahmoud.
President Mohamed Morsy issued this past November a contentious constitutional declaration granting him sweeping powers that deemed his decisions immune from judicial appeal. Among these decisions was the sacking of Mubarak-era Mahmoud, and appointing Abdallah in his stead.
The move spurred the anger of judges and prosecutors, who faced off with the executive branch for weeks. Many decided to boycott overseeing the divisive constitutional referendum also pushed through in the declaration.
Mahmoud had filed a lawsuit at the Court of Cassation to appeal the decision to terminate his tenure and demand that Morsy's decision to appoint Abdallah be annulled.
But the court's ruling as published in Al-Ahram only annuls the decision to appoint Abdallah, without determining Mahmoud's fate.
The ruling raised controversy amid mounting speculations that the presidency may appeal it in front of the Court of Appeals, leaving a vital question unanswered: who currently legitimately holds the position of the country's top prosecutor?
"Whether Mahmoud will return to his position or not depends on the explanation of the ruling, which has not yet released by the court," Mahmoud Kobaish, dean of the Faculty of Law at Cairo University, tell Egypt Independent.
If the court acknowledges Mahmoud's right to return to his position, it would mean that he is the top prosecutor, Kobaish adds. However, if the explanation ignores Mahmoud's sacking altogether, the Supreme Judicial Council would then follow the guidelines set by the new Constitution to appoint a new prosecutor.
According to the new Constitution, the president chooses the prosecutor general from three nominations presented to him by the SJC.
"The ruling is very clear. The court considered Morsy's constitutional declaration as an administrative decision that could be appealed. The ruling should be implemented immediately if we want the rule of law to prevail," Kobaish said.
In case the presidency decides to appeal, one of Abdallah's aides would act as top prosecutor until the Court of Appeals issues its final ruling, he added.
A statement by the ruling Freedom and Justice Party shows that this may very well be the next move.
"The court ruling contradicts Article 236 of the Constitution, which stipulates that the effects of all constitutional declarations shall be implemented, including the constitutional declaration issued in November 21,,according to which Abdallah was appointed," the statement said.
An FJP leader and former member of the assembly that drafted the Constitution, Sobhy Saleh, said in a report released on the FJP's website that Abdallah's appointment came as part of a constitutional declaration immune from judicial appeal.
"The court cannot appeal decisions deemed immune from appeal in the first place," Saleh explained.
Kobaish disagrees. "This article only relates to correct constitutional declarations that were issued from a party entitled to issue constitutional declarations. But the Court of Cassation considered Morsy's declaration as an administrative decision because he was not allowed to issue declarations, let alone deem them immune from judicial appeal," he added