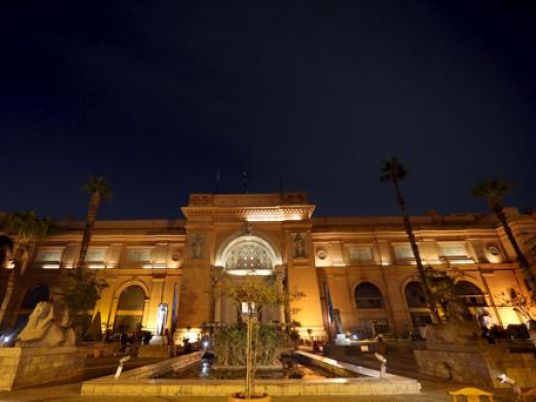 The Ministry of Tourism and Antiquities has released the second in a series of virtual and guided video tours of a wide array of museums and archaeological sites around Egypt.
You will embark on a different kind of journey through the Egyptian civilization in the famous Egyptian Museum. 20 pieces will be displayed by the museum to recount the story behind each of them.
Friday's tour will feature the Statuette of Niankhpepy's servant, a painted wooden statuette discovered in the tomb of the official Niankhpepy, appointed as the "Supervisor of Upper Egypt" during the reign of the Sixth-Dynasty king Pepy I.
The intricate figure, depicted carrying two baskets, was found in the town of Meir, near al-Qusiya in the Assiut Governorate, and is now housed at the Egyptian Museum in Cairo.
The two baskets are decorated with a colorful grid of squares. The basket on the figure's back, meanwhile, is wrapped with a wide, leopard-print band. A closer look reveals that the bag has two tapered legs at the bottom, allowing it to be propped up when placed on the ground.
The Egyptian Museum in Cairo contains an extensive collection of pharaonic antiquities. The original collection was established in the late 19th century under Auguste Mariette and housed in Boulaq.
The objects were moved in 1891 to the palace of Ismail Pasha in Giza before being transferred in 1902 to the current building at Tahrir Square.
The Egyptian Museum features 120,000 items with a large amount on display and the remainder in storerooms. It was constructed in 1901 by the Italian construction company Garozzo-Zaffarani, and designed by French architect Marcel Dourgnon.
The initiative, which was recently launched under the slogan "Experience Egypt from Home. Stay Home. Stay Safe," aims to enable people worldwide to embark on a journey through ancient Egyptian civilization while confined at home because of precautionary measures taken to combat the coronavirus outbreak.
This and all of the museum's other tours will be available on the Ministry's official website and Social Media platforms (Facebook, Instagram, Twitter and Experience Egypt).
Stay tuned tonight at 8 pm for the first story.