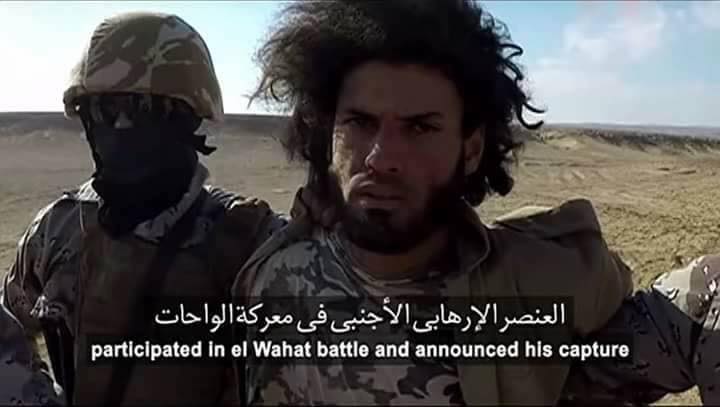 The foreign sole-surviving militant of an air strike and military raids conducted in response to the El-Wahat El Baheria attack is scheduled to make an appearance on the private-owned Al-Haya television channel, at 9.30pm Thursday night.
The military operation was conducted in retaliation to the 20 October El-Wahat El Baheria attack following nearly 12 days of confrontation between militants and police officers, which killed 16 officers, in an attempt to free a kidnapped policeman, Mohamed Al-Haies.
"The survivor militant has been arrested after being injured during the army operations against perpetrators of El-Wahat El Baheria attack. He will reveal important information today on the presence of militants groups inside Egypt's Western desert," an anonymous security source revealed to Egypt Independent on Thursday.
President Abdel Fattah Al-Sisi told attendees at the World Youth Forum that all but one of the perpetrators involved in the 20 October attack have been killed, with the final perpetrator being held in police custody.
Sisi stated that the militant will be publicly confessing his crime and revealing other information.
"He is not Egyptian; he was the only surviving terrorist out of 14. He will appear in the media to confess on the incident and the terrorist cell," Sisi affirmed.
Sisi stated that the El-Wahat El Baheria incident was connected to a planned militant attack against the Wadi El-Rayan monastery.
Sisi also reaffirmed the Interior Ministry's declaration that that the number of police officers killed in the attack was 16.
International press agencies, including the BBC and Reuters, had challenged this figure, reporting that over 50 police officers and army personnel had been killed in the attack.
"Egypt is facing wars classified as the Fourth and Fifth wars that are being managed by security apparatuses located out of Egypt. We declared the number of the police victims who have been lost in the El-Wahat El Baheria incident only after receiving confirmed information on the status there," Sisi stressed.
The shootout occurred after the Egyptian National Security apparatus received information on the presence of a group of militants in the desert off the El-Wahat El Baheria road, located between the Governorate of Giza and Fayoum. The information was collected from four detainees from the Qaluibyia Governorate.