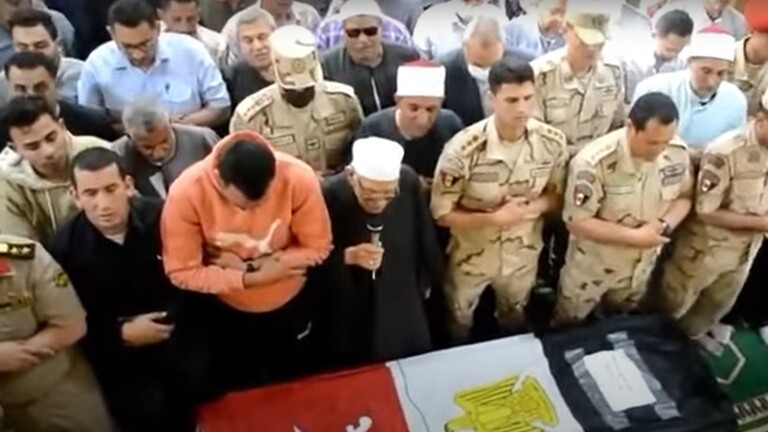 Egyptian social media was abuzz with footage reportedly showing the solemn funeral of the Egyptian soldier Mohamed Salah, 22, whose burial was announced, on Monday, and who killed three Israeli soldiers during a border skirmish.
RT inspected the video and found that it actually dates back to last year, showing the funeral of First Lieutenant Suleiman Ali Suleiman.
The family of the Egyptian recruit, Mohamed Salah, who carried out the border incident which killed three Israeli soldiers, had announced the burial of his body after receiving it.
His cousin explained that the body of the man was buried in Qalyubia Governorate, indicating that condolences will be received in his area of residence, Ain Shams, on Tuesday.
The recruit lived with his family on al-Hadi Salama Street, off Ahmed Esmat Street in Ain Shams area, Cairo.
His father died years ago in a traffic accident, and he used to work in the Public Transport Authority.
Salah was the middle son between two brothers, the eldest is called Mahmoud, and the younger is Abdo, and he lives in the family house with his uncle and he and his older brother support the family.
He did not complete his education (he stopped at preparatory school), and he used to work in aluminum manufacturing in one of the workshops on Ahmed Esmat Street.
He later worked for a while as a carpenter with his uncle in Qalyubia, and he was a lover of art and was interested in designing kitchens, due to his work.
Salah enlisted to perform military service in 2022, and served as a recruit in Central Security Forces on the border with the Palestinian territories in the North Sinai.
Border shooting
Egypt and Israel are set to hold an urgent security meeting regarding a shootout at the border which left three Israeli soldiers dead, and to form an Egyptian-Israeli committee to prevent such an incident from occurring again, the Saudi Al-Arabiya channel reported on Saturday.
An Egyptian army statement at the time said that, "At dawn, on Saturday, one of the security personnel in charge of securing the international border line chased drug smuggling elements, and during the pursuit, the security personnel breached the security barrier and exchanged fire."
"This led to the death of three Israeli security personnel and the wounding of two others, in addition to the death of one Egyptian security personnel during the exchange of fire," the statement said.