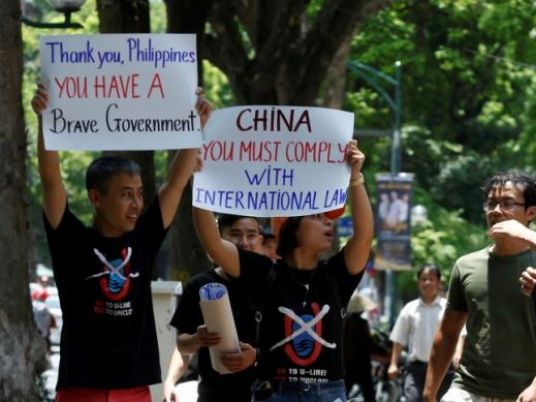 About 20 Vietnamese demonstrators were detained on Sunday while trying to hold a protest against China's rejection of an international court decision that denied its vast claims in the South China Sea.
The Permanent Court of Arbitration in The Hague, deciding a case lodged by the Philippines, ruled last week that China's nine-dash line denoting its territory, illustrated in a U-shape on Chinese maps, was illegal and breached Manila's sovereign rights. Beijing has called the case a farce.
The demonstrators, some wearing T-shirts with the slogan "No-U", were forced by unknown men into buses and cars that were waiting for them around Hanoi's historic Hoan Kiem lake, Reuters witnesses said.
Vietnam has its own sovereignty disputes with China, but has been reserved in its comments on last week's verdict, welcoming it but not saying if Hanoi would pursue the same legal path as the Philippines.
Vietnam's communist government is sensitive about anti-China sentiment among its people, many of whom welcomed the Philippines' legal victory.
China claims most of the energy-rich waters through which about US$5 trillion in ship-borne trade passes every year. Brunei, Malaysia, the Philippines, Taiwan and Vietnam also have claims.
Also on Sunday, a separate group of Vietnamese demonstrators held a rally that lasted less than one minute in front of the Philippines embassy in Hanoi.
The nearly 10 people in the group hopped onto scooters and fled to evade arrest as police approached.Their signs read "China you must comply with international law" and "Thank you Philippines, you have a brave government."