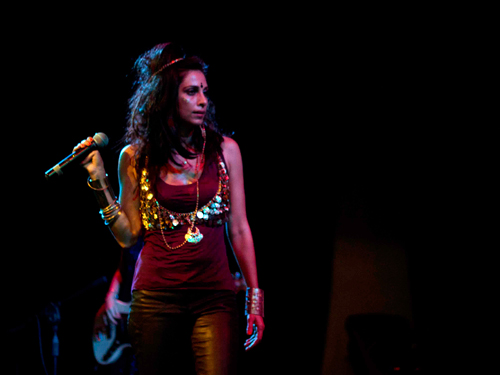 In the world of underground music, electro-pop singer Yasmine Hamdan is known for Soapkills, the duo she started with Zeid Hamdan (no relation) in Beirut in the 1990s. But as she breaks away from the influence of that formative band and defines herself as a solo artist, the singer-songwriter is slowing it down and taking the time to let her unique vocals sink in.
She relates to her audience with a sense of humor, evidenced Friday night at Al-Azhar Park not only in the way she jokes with her listeners, but also in the pieces of her outfit — a sequined belly dancing top over her shirt and a gold serpent headpiece — that seem to have come straight from Khan al-Khalili.
"I identify a lot to Egyptian humor and energy. Humor here is incredible, people are so funny, it's crazy," she says.
For Hamdan, experimenting is all part of the fun.
"It's really interesting to see my energy, the crowd … when you change the order of the songs how this can affect the public, so it was an incredible and very, very pleasurable experience," she said after performing at El Geneina Theater on Thursday and Friday.
Early in her set Friday night, the now Paris-based Hamdan sang "Beirut," an almost ballad-like homage to the city that has had so much influence on her music.
"I was on and off connected, disconnected to this place," says Hamdan, who as a young girl was shunted around the world to escape the conflict at home. "I was born in the middle of civil war and I have a very fragmented memory and a very fragmented childhood: escaping coming back, going, coming, living in many places. So I identify and do belong to this place but I'm an outsider also."
Listening to the great classical Arab songstresses like Asmahan, and singing her own modern music in Arabic helped Hamdan feel at home when she wasn't sure where she belonged.
"When I emigrated to Paris I took all my things and I had like 60 kilos of cassettes … this is my treasure."
Trying to reconcile the disparate sounds and styles of Janis Joplin, Nina Simone, Madonna, Daft Punk and Om Kalthoum would be enough to give some a headache, but Hamdan doesn't see anything unusual about pulling from as many different influences as possible.
"For me its so normal, natural. I lived in so many countries and traveled a lot. I guess I'm open to that, sensitive to that," she says describing her daily diet of music as her vitamins.
"I listen to a lot of old music also. I try to be in touch with what's happening, but I'm not always. I listen only to dead people, almost."
During the tour for her self-titled solo album, Hamdan is putting strong and sometimes spine-tingling vocals at center stage.
"This time I want to come with something more down-to-earth," she says.
"Something really calm and sensual and feminine and at the same time a weird mix, a new way of doing what I do."
After a few down-tempo beats Friday night, she brought her own blend of belly dancing moves and a tabla player to join her band, instantly rousing the audience to its feet. From there, her slow start was forgotten as she won the clapping, swaying crowd.