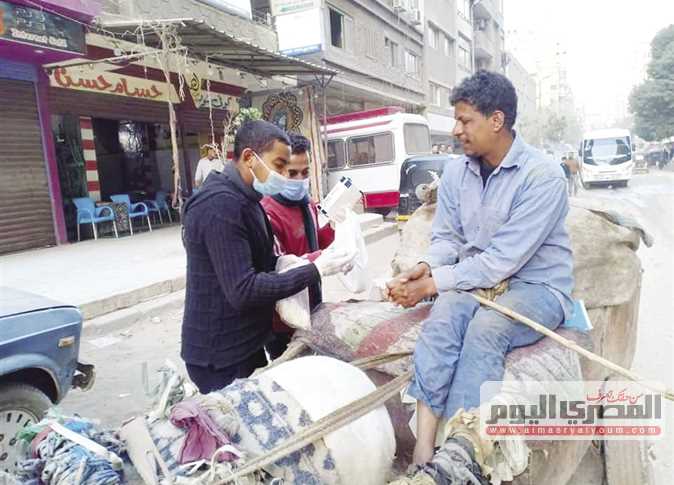 As coronavirus cases began to rise in Egypt, Sayyed Mansy, 23, and a group of his friends launched an initiative called "We Can" to raise awareness among Egypt's poor about the outbreak and provide them face masks and cleaning supplies like rubbing alcohol for free.
Garbage collectors, street vendors, and others working low-salary jobs across the country have benefited from the project. 
"The first thing that came to our minds is these people and what they would do in these difficult circumstances," Mansy said.
Young volunteers began the initiative in several areas in Cairo, after purchasing a large number of masks, gloves, and rubbing alcohol, distributing them to street cleaners, food vendors, and Egyptians working in public transportation.
He continued: "We would explain to everyone what the virus is, its symptoms, and ways of prevention according to the instructions of the World Health Organization, and then we would distribute masks and gloves to them."
"At the beginning we were five, but then more volunteers joined after we publicized (information about) the initiative on social media and published photos," he added.
The reaction of people to the "We Can" project was better than expected, Mansy said, adding that it has spread to eight  Governorates so far, including Mansoura, Sharqyia, Suez, Alexandria, Fayoum and Kafr al-Sheikh, where dozens of volunteers have joined in.
Volunteers set up poster boards with information on the illness and even sterilized public transport, ATMs, and in some areas homes and stores, he added.
"We tried to do our best. But now, after the curfew has been imposed to prevent the spread of infection, our role will be confined to our (Facebook) page," he said.
Egypt has confirmed 495 cases of coronavirus and 24 deaths.
The country has imposed a two-week, nighttime curfew from 7 pm to 6 am, extended flight suspensions through April 15, and moved to keep schools and universities closed another two weeks to curb the spread of the virus.
Edited translation from Al-Masry Al-Youm