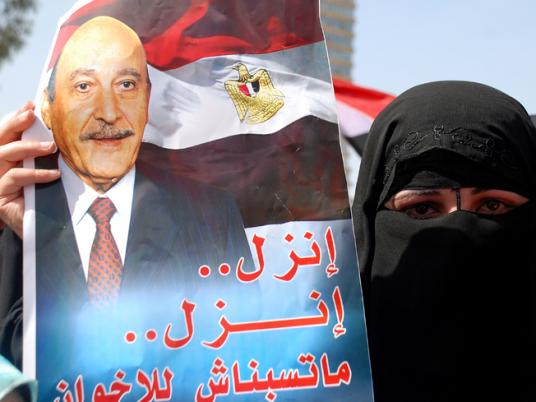 Supporters of former Vice President Omar Suleiman have warned the ruling military council on Wednesday that they "will not tolerate handing Egypt over to terrorists and traitors."
Their declaration comes only two days after Mohamed Morsy of the Muslim Brotherhood was announced Egypt's new president.
Suleiman's campaign addressed the Supreme Council of the Armed Forces on its Facebook page, saying, "We will not remain silent. Apparently we disagree with you drastically over issues which we will declare to you behind closed doors."
"We have been defending you against criticism for over a year and a half, but we now feel we have been entirely ignored and denied any political role," the statement said.
"You, gentlemen, held discussions on Egypt's future with extremists and traitors," the statement added, decrying Egypt's military rulers for not inviting Suleiman's former campaign to any recent discussions.
Mohamed al-Esheiry, a coordinator with the campaign, told Egypt Independent they do not rule out staging peaceful protests to voice their views.
Asked for an explanation for what the statement said about "closed doors" meetings and what it means they "will not tolerate," Esheiry said the campaign has plans that it declines to share on its Facebook page.
Suleiman was disqualified from the presidential race by the Presidential Elections Commission in April after it was determined that the citizen signatures he submitted in support of his candidacy did not fulfill the requirement for geographical distribution. Candidates had to collect 30,000 endorsements signed by citizens in 15 governorates or obtain support from 30 MPs to be eligible to run.
Suleiman's candidacy had enraged political and revolutionary forces who believed that figures linked to the regime of toppled President Hosni Mubarak should not be allowed to run for president.