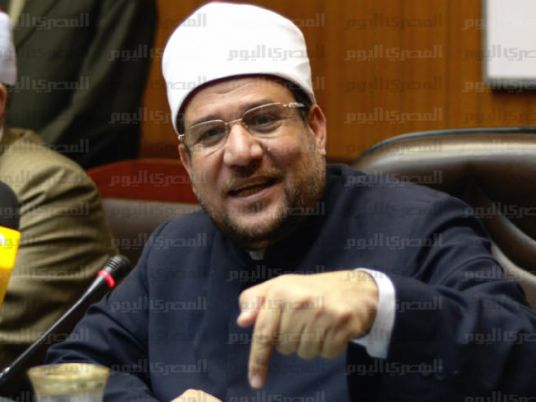 A week ago, government authorities announced the decision to make all mosque preachers deliver an identical, government-approved sermon during Friday prayers. The sermons are to be written by officials from the Religious Endowments Ministry and senior clerics from Al-Azhar.
In the days since the announcement, Imams and religious scholars have been mulling over the decision, and many have raised objections. Inside the walls of Al-Azhar, a number of faculty professors and deans have placed themselves in direct opposition to the policy, submitting complaints to the Grand Sheikh's office. Al-Masry Al-Youm met with religious sources and Religious Endowments Minister, Mokhtar Gomaa, to hear some of the reactions that have arisen from the new policy.
Al-Azhar scholars have declared their rejection of pre-written sermons, saying that this destroys the relationship between the congregation and the preacher, and will eventually lead to people absenting from attending Friday prayers.
Several preachers have expressed fears that the new system will make preachers lazy and cause them to loose their knowledge of Islam, as they will read mindlessly from a script where they used to prepare their own material on a weekly basis.
Some staff from the ancient center of Islamic scholarship say the decision was made on the back of a false accusation from ministry officials that Al-Azhar was a cause for extremist and Salafi preaching in Egypt.
Meanwhile, Gomaa told Al-Masry Al-Youm the decision will not be reversed, and that a specialized committee of scholars is being formed to prepare the sermons on a monthly basis.
"It's not true that pre-written sermons kill creativity. The Imam of the mosque delivers two sermons a week, so he can preach about whatever he wants in the second," Gomaa stated, in response to fears that a one-size-fits-all sermon neither allows individual preachers to draw on their own resources, or to tailor their talks to local needs.
"The ministry seeks to fight extremism and to combat the imposing of individuals' viewpoints [on congregations]," he said, though he admitted the success of the policy remains to be seen.
Gomaa denied any political motive behind the decision, though as news agency Aswat Masriya reported, combating security threats linked to extremist Islam have been at the top of President Abdel Fattah al-Sisi's agenda since he took power from the ousted Muslim Brotherhood in 2013.
Edited translation from Al-Masry Al-Youm