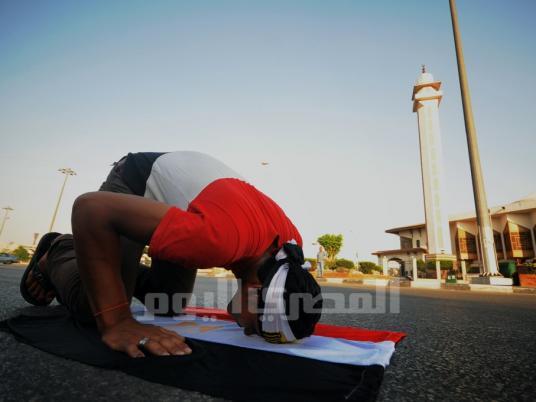 An article attacking western media outlets' coverage of Egypt's internal affairs, written in English by the Foreign Ministry spokesperson, was published on Sunday on the ministry's official Facebook page.
Ahmed Abu Zeid's article, titled "Egypt … retelling the untold story", stated that despite Egypt regaining its natural role among world's countries and building a democratic state that embodies the values of modernity and enlightenment, numerous western media outlets continue to paint a gloomy picture of Egypt.
"All this comes, however, to the displeasure of some western media outlets, which are used to painting a gloomy picture of Egypt and its role in the region, and always opt to place their emphasis on purported areas of excesses or derelictions, even with no clear evidence to substantiate their claims," the article read.
In his article, the spokesperson explained that western media depicts conditions in Egypt as deteriorating while ignoring any positive efforts or achievements. He pointed to the many unprecedented challenges that Egypt is currently confronting, saying that in spite of this the state has been successful in countering terrorism across the Sinai peninsula.
Regarding the ongoing unrest in North Sinai, Abu Zeid said the UK-based newspaper The Guardian does not publish fair or accurate coverage of incidents in the governorate.
As an example, he cited The Guardian's recent editorial of video footage released by the Muslim Brotherhood-affiliated channel Mikamileen which allegedly shows Armed Forces officers shooting unnamed civilians in North Sinai. Abu Zaid said the newspaper did not verify the authenticity of the video and cited evidence that the footage is fabricated.
"The attitudes of the men featured in the film, how they are dressed would lead anyone to easily note how fake it is. But it seems that [The Guardian] editor is not aware that it is against the long-held tradition of the Egyptian army to have bearded men in uniform!" Abu Zeid wrote regarding the authenticity of the footage.
In the same context, another UK-based newspaper The Independent also received criticism from Abu Zeid who specifically highlighted another article about the "unauthenticated video" published by the renowned writer Robert Fisk.
"The goals of Fisk's article was not only to support an erroneous narrative about the Egyptian army and the situation in Sinai, but to draw wrong parallels with other countries, in total disregard for the heroic efforts exerted in the long and ferocious fight against terrorists, now besieged in a remote and small area in North Sinai," Abu Zeid said.
He then attacked western media's disregard of a video released by IS which shows Egyptian army officers being shot by snipers, saying that these media outlets do not want to offer any sympathy to Egypt's Armed Forces.
"Of course, there is no need to report on a documentary that might stir unwanted sympathies towards the Egyptian army, or to highlight incitement to and glorification of terrorism!" he explained.
The spokesperson pondered the reasons that would push western media outlets to descent to such manipulative tactics when it comes to Egypt, all while ignoring major excesses in others parts of the world.
Abu Zied added that stereotypes of a deteriorating Egypt always come to the surface when any semblance of success is achieved, noting that this is part of a smear campaign that is obsessed with producing a doom-laden analysis of Egypt.
"Analysis that smacks of prejudice and animosity. But in doing so, some media outlets are not only drowning out voices of prudence and reason, they are also insulting the intelligence of their own readers," he concluded.