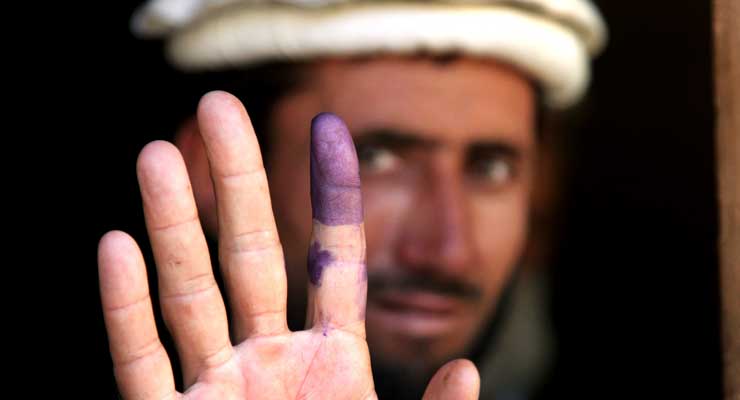 Doctors, mullahs, sons of warlords, feminists and even a prison inmate are among a motley crew of candidates contesting war-torn Afghanistan's October 20 legislative election.
The more than 2,500 candidates campaigning for the third parliamentary ballot since the fall of the Taliban in 2001 have turned the political scene into a game of Where's Wally.
Digitally-enhanced photos of political hopefuls, many of them running for the first time, have been plastered on blast walls, lamp posts and restaurant facades next to their symbol — such as a palm tree or a cricket bat — to help the largely illiterate population identify them.
Improving security and stamping out corruption are among the lofty promises made by candidates as they compete for the 249-seat lower house, which is widely derided as a lazy, ineffective body full of gangsters.
"I am a medical doctor so I know the pathology of society, where the problems lie and how to solve them," said Ahmad Tamim Rahman, who is among more than 800 candidates contesting the 33 seats allocated to Kabul.
"I am frustrated with the situation, with the never-ending poverty, war and misery."
But campaigning for public office is challenging in a country where daily life is stalked by the threat of suicide attacks and fierce fighting between militants and government security forces.
Hundreds of people have been killed or wounded in the months leading up to the long-delayed ballot.
At least 10 candidates have been killed so far, including Jabar Qahraman who was blown up Wednesday by a bomb placed under his sofa in the southern province of Helmand.
The Taliban has warned candidates to withdraw from the ballot, which it has vowed to attack.
Kabul women's rights activist turned candidate Wida Saghary said she was not intimidated.
"I have always risked my life to fight for the rights of people, in particular women," Saghary told AFP.
"I am not afraid now that I am running for a seat in parliament."
– Money means votes –
There are lucrative incentives for taking the risk to contest Afghanistan's lower house, which is tasked with making laws and overseeing the government.
An MP receives a monthly salary package of at least 200,000 afghanis (more than $2,600), including an allowance for bodyguards and other expenses — a fortune in a country where more than half of the population lives in poverty.
Immunity from prosecution also keeps them out of jail if MPs fall foul of the law and there are plenty of opportunities to exploit their powerful positions in business deals.
And many MPs have a record of sparse attendance in the chamber and often stay in Kabul rather than travel back to their home provinces.
At least one candidate hopes he can represent his constituents from a prison cell.
Convicted fraudster Abdul Karim Shafaq is still in the race for the western province of Farah even though he is serving a two-year jail sentence, a spokesman for the attorney general's office confirmed.
Sitting MP Kobra Mustafawi, who represented Kabul in the previous parliament and is seeking another term, said she was different.
Mustafawi said she had always defended the underprivileged and would "continue to fight for their rights", she told AFP.
Rahman, who has pledged to make "streets from gold, schools from diamonds and universities from emeralds" if elected, said he was not after power or privilege either.
Afghanistan was lagging behind its neighbors and "I am trying to find a way to change that", he said.
Rahman might struggle to convince voters.
An Asia Foundation survey published in August shows only 10 percent of Afghan respondents believed lawmakers "cared about national issues".
In contrast, 37 percent thought they were more concerned with their "personal interests".
Money, not altruism, was the key to getting elected in Afghanistan, said Thomas Ruttig, co-director of Afghanistan Analysts Network.
Deep pockets were needed to buy votes and stuff ballots — common practices in previous polls.
But women's rights activist Saghary hopes to change the negative perception of MPs, starting with a promise to be "a representative, not a kidnapper" and revoke her immunity from prosecution.
"We should be held accountable for our deeds like the rest of the country," she said.