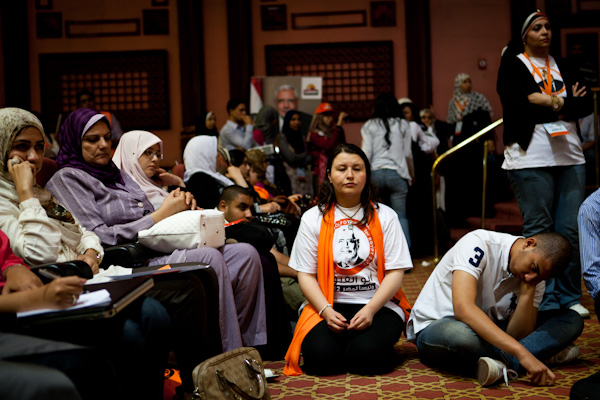 Eager to prove their candidate's commitment to women's rights and empowerment, the campaign for Abdel Moneim Abouel Fotouh's presidential bid organized a rally of hundreds of women on Tuesday in a Cairo conference hall.
The crowd reflected a diverse constituency, with veiled and unveiled women of varying social and economic backgrounds. Among cheers from his campaigners, Abouel Fotouh's prominent backers took to the podium to renew their endorsement of the 60-year-old physician, including non-veiled actress Athar al-Hakim, his socialist political advisor Rabab al-Mahdy and moderate Islamist political scientist Nadia Mostafa.
Simultaneously, hundreds of young, bearded men convened in an adjacent hall waiting for the kick-off of the rally sponsored by Egypt's largest Salafi movement, the Salafi Dawah, and its political arm, the Nour Party, dedicated to the same candidate. A few women walked in the male-dominated arena and had to abide by rules of gender segregation and sit on the side of the conference hall.
The back-to-back rallies attest to the dichotomous nature of Abouel Fotouh's constituency on the eve of Egypt's presidential poll.
For almost a year, Abouel Fotouh has marketed himself as a liberal Islamist, who was cast out of the Muslim Brotherhood for his progressive outlook. He also presented himself as the missing link between Islamists and secularists in the midst of fierce polarization, with a discourse that recognizes the importance of religion but also liberal values.
The Salafi Dawah's and the Nour Party's endorsement of his nomination last month had shaken this fine mix. On one hand, it alarmed Abouel Fotouh's non-Islamist backers, who began to reconsider their choice. On the other hand, it poses a huge challenge for Salafi leaders, who are attempting to convince their followers to endorse a man who had once expressed his full support for freedom of faith and women's and non-Muslims' right to run for president.
The non-Islamist's ordeal
Noha al-Shafei, a 33-year-old marketing specialist sitting at the women's conference, admitted that the Salafi backing of Abouel Fotouh made her question her choice.
"I felt worried after the Salafi announcement," Shafei told Egypt Independent on the sidelines of the rally. "I fear that he may become influenced by them."
"I fear that Salafis may bar women from going out unless they wear the veil or prevent them from working certain jobs," she said as she was preparing to walk into the adjacent hall to hear how Abouel Fotouh addressed the Salafis.
"I want to attend [the Salafi conference] but I am worried. I tried to put on loose clothes today because I am concerned about Salafis' looks. They are not like us. They are tough. I am Muslim but I am not intolerant," she said, with her long, black hair uncovered.
Neveen Madkour, a 35-year-old housewife, headed straight to the Salafi rally after she read on Facebook that Wael Ghonim, one of the revolution's youth leaders, would speak there.
But the minute she set foot inside, Madkour, wearing jeans, a brown long-sleeve shirt and with her hair covered in a fashionable orange scarf, says she felt alienated.
"What I saw today made me worry," said Madkour. "The gender segregation, the beards, the robes, the niqab…"
Madkour has recently begun leaning towards the Nasserist candidate Hamdeen Sabbahi.
"Sabbahi has nothing to do with the Brothers or Salafis. One feels comfortable about backing him," said Madkour, who refuses to vote for any remnant of the old regime, including Amr Moussa and Ahmed Shafiq.
Since Salafis threw their backing behind Abouel Fotouh, many pro-revolutionaries, leftists and liberals had voiced reluctance to support a nominee endorsed by an ultra-orthodox force.
They suspect that Abouel Fotouh made promises to Islamize the state and society in order to garner Salafi support. They also argue that Abouel Fotouh's discourse on individual freedoms has become more ambiguous since Salafis backed him. Eventually, many switched to Sabbahi, arguing that he is the only candidate who bears no Islamist stigma and no ties with the old regime.
Secularists who changed their minds about Abouel Fotouh and those who did not took their disagreement to social media. While the former contended that Abouel Fotouh is a fundamentalist in disguise, the latter held that he is the right bet to reverse secular-Islamist polarization that has benefited the military since Hosni Mubarak's ouster.
Ali al-Bahnasawy, Abouel Fotouh's media advisor, who identifies himself as a liberal, rebuffed all suspicion that his nominee had struck a deal with the Salafis.
"We went to all parties with one message that we have to end the [Islamist-secular] polarization in the political sphere," Bahnasawy told Egypt Independent earlier this month.
"We go to all parties and tell them that we have revolutionary demands: bread, freedom and social justice. These demands have nothing to do with religion, secularism or liberalism," he added.
According to another member of Abouel Fotouh's campaign, Salafis had demanded that the latter appoint a Salafi vice president.
"Abouel Fotouh told them that he would not decide on the matter of his vice president now. So he did not give them any guarantees," said the source, speaking on condition of anonymity.
Controlling the Salafi rank-and-file
As soon as the Salafi audience settled down, Nader Bakkar, a spokesperson for the Nour Party, walked to the podium to deliver a speech aimed primarily at convincing the rank-and-file of the Salafi Dawah to support Abouel Fotouh and warning them against voting for the Muslim Brotherhood's candidate, Mohamed Morsy.
"Do not listen to anyone who promises to implement Islamic Sharia tomorrow," Bakkar said, in an oblique reference to Morsy, whose campaign has portrayed him as the sole Islamist nominee capable of implementing Islamic law, reclaiming Jerusalem and resurrecting the Muslim caliphate.
Bakkar added that the implementation of God's Sharia does not fall within the jurisdiction of the next president but within that of Parliament and the Constituent Assembly that will be tasked with writing the new constitution. In the meantime, he addressed the negative campaigning launched by the Brothers against Abouel Fotouh in Islamist circles. The Muslim Brotherhood has questioned Abouel Fotouh's commitment to Sharia and highlighted his controversial views, hoping to dissuade conservative voters from backing him.
"For whoever tells you that Abouel Fotouh's views contradict Islamic Sharia, I swear to God, we reviewed with him everything he said and he had gone back on it and said he is no [religious] scholar and that he will abide by matters of consensus and what Al-Azhar says," said Bakkar, whose group had questioned Abouel Fotouh's faith for his full espousal of democracy, equality, and freedom of thought and faith in the past.
In the meantime, Bakkar argued that only under Abouel Fotouh will Salafis have the freedom to proceed with their proselytizing activities with no interference from the state.
"Abouel Fotouh will not be concerned about your activities in mosques because there is no organization or party behind him that wants to compete with you over the same space or present its own viewpoint," said Bakkar in another oblique reference to Morsy, whose organization had competed with Salafis for years over conservative constituencies.
As soon as Bakkar pronounced his closing remarks, the session was suspended and the audience flocked to a mosque for sunset prayers.
"There is a segment of young Salafis who are not convinced with Salafi Dawah's decision [to back Abouel Fotouh]," said Ahmed Shalata, an author and expert on the Salafi movement.
Some would not abide by this decision because they had been already disillusioned with the Salafi Dawah's leaders due to their reluctance to back Hazem Saleh Abu Ismail, said Shalata.
Before being disqualified from the presidential race for his mother's dual citizenship, Abu Ismail, a Salafi lawyer-turned-preacher, attracted thousands of young Salafis with his revolutionary discourse and unequivocal commitment to implementing Sharia. Salafi sheikhs had been reluctant to back him. Experts tied this reluctance to their fears that Abu Ismail's radical outlook and anti-military attitude would provoke a military eradication of Islamists.
Shalata expects some of the disenchanted Salafi Dawah's youth to vote for Morsy as an act of rebellion against the sheikhs. "There is another segment of [Salafi Dawah's] youth who reject Abouel Fotouh for his views," he added.
Yet, the large majority of Salafi Dawah youths will obey their sheikhs' commandments, Shalata expected. "There is a spiritual and religious tie between the follower and the sheikh," he said, ruling out a sweeping rebellion in the Salafi Dawah.