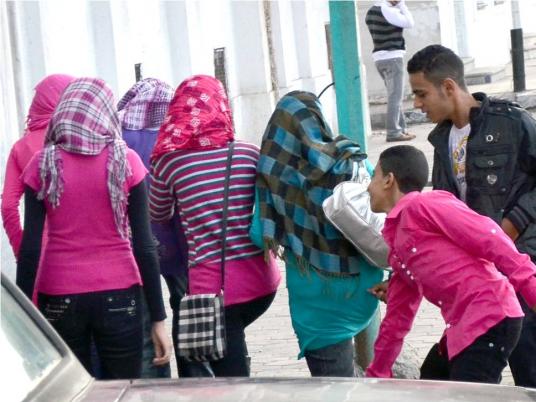 The state-funded National Council for Women called on female protesters to report sexual violence and harassment in a statement released Tuesday, saying the "phenomenon [has become more violent] recently."
National Council for Women President Mervat al-Tellawy said the council is compiling victim accounts with the hopes of eventually prosecuting offenders, as well as providing better support for women. She added that the NWC is drafting tougher legislation against harassers that provide courts with a legal definition of sexual harassment and violence.
Tellawy said harsher penalties for harassers may cause people to think twice before they "[violate] the rights and dignity of Egyptian women."
The news comes as a coalition of women's right activists announced plans for a Wednesday march to condemn sexual harassment. The demonstration is set to begin at the Sayyed Zeinab Mosque and end in Tahrir Square.
In the last few weeks, numerous rights activists and women's groups have denounced the recent increase of violent attacks on female protesters and political activists amid the second anniversary of the 25 January revolution. Many have called the assaults organized and said the violence is designed to scare women away from participating in politics.
In response, groups such as the Al-Nadeem Center for the Rehabilitation of Victims of Violence, the Fouad Watch and the Shoft Taharrosh Initiative issued a joint statement Tuesday saying, "Egyptian women will not [go against] their duty toward their homeland and will not give up on the long legacy of the women's [rights movement]."
Victims can call the NWC hotline +2 080 08883888, the council's landline phone numbers +202 3387 1204/02 or send a fax to +2 02 3387 059 to report sexual violence or harassment.