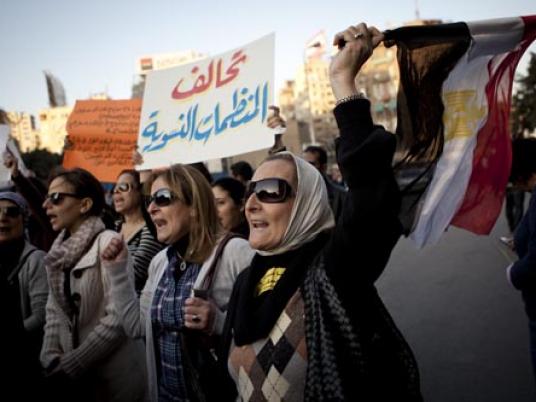 The Alliance of Women's Organizations has demanded a new constitution that achieves the goals of the 25 January revolution for freedom and social justice, human dignity and national independence, and that reflects the pluralism and diversity of Egyptian society.
At a conference on Sunday to announce a document on the constitution, the alliance said the constitution must be built on a democratic basis that reveres the rule of law, consolidates the rules of citizenship, guarantees rights and freedoms, and criminalizes discrimination.
The group also stressed the need for segregation of authorities, consolidation of popular control over state institutions, and compliance with international conventions.
The alliance is comprised of 16 feminist rights groups, including the New Woman Foundation, the Woman and Memory Foundation, the Nadim Center for Rehabilitation of Victims of Violence, the Nazra Foundation for Feminist Studies, the Egyptian Initiative for Personal Rights, the Center for Appropriate Means of Communication for Development, the Arab Women Alliance, the Egyptian Women's Issues Foundation, and the Egyptian Family Development Foundation.
Amal Abdel Hady, head of the New Woman Foundations Board of Trustees, said the document contains 13 articles that the alliance demands be included in the new constitution to guarantee the rights of women and identify mechanisms to ensure equal opportunities and non-discrimination. They also commit the state to adhere to the positive discrimination policies and mechanisms that are stated in the Convention to Eliminate all Forms of Discrimination against Women, and combat customs and traditions that degrade the dignity of women.
Furthermore, the state should ensure gender equality in its
appointments to
public office, and protect the right of women to education, health, and labor.
Edited translation from MENA