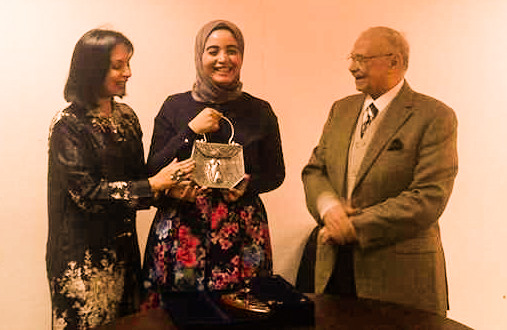 Egypt's National Council for Women (NCW) honored on Monday Rania Fahmy after she became the first woman from Upper Egypt to take a man accused of sexual assault to court, as well as to win the case.
Fahmy, a university graduate, met the head of the NCW, Maya Morsi, who presented her the NCW shield for her courage, after she broke the stereotypical image of girls fearing reporting incidents of sexual harassment and assault.
Morsi welcomed Fahmy at the NCW and expressed appreciation for her attitude, dubbing her "the Egyptian icon," because she defended her right to hold her assaulter accountable.
"Fahmy did not seek help of any kind, no pressure from the media, no support from any civil society [organization], even the National Council for Women was not asked to help," said Maya, adding that the quick processing of her case by the judiciary is a positive sign and lesson for every vulnerable woman.
For her part, Fahmy expressed her happiness and sense of pride at the NCW's support of and honor of her. She also thanked the judicial authorities and expressed her gratitude to the police officers who dealt seriously with her report within 24 hours.
Fahmy called on all women harassed in the country to do the same to defend themselves against sexual assault.
The sexual assault on Fahmy dates back to August 2017, when she made her way to purchase groceries and a man sexually assaulted her in the street.
Fahmy caught the attacker and prevented him from escaping the scene. Bystanders flocked to the site to help her, before reporting the incident to the police.
The incident was captured on CCTV, which served as strong evidence in court, leading to the suspect's 3-year prison sentence.
Edited translation from Al-Masry Al-Youm