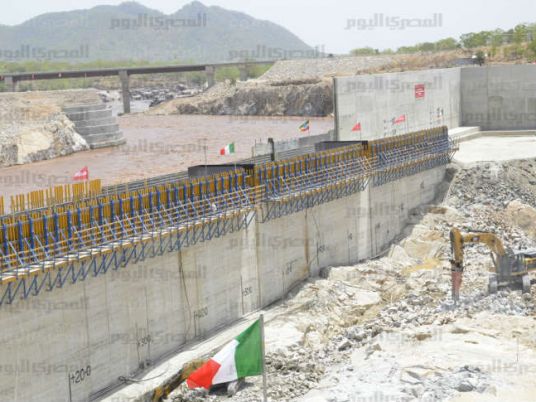 Egypt Minister of Irrigation and Water Resources Mohamed Abdel Ati said Saturday that Egypt won't accept any cuts to its share of water from the Nile River, not "even a cup less."
In statements to reporters, Ati said that all state institutions concerned are involved with Egypt's team in its ongoing negotiations with Sudan and Ethiopia over the Grand Ethiopian Renaissance Dam (GERD).
"Egypt does not refuse that any country builds dams, on the contrary, we have participated in the construction of many dams in African countries, but without prejudice to the interest of Egypt and its historical share (of Nile waters)," Ati said.
"We stumbled from the beginning in the technical negotiations as Ethiopia violated what we previously agreed upon, and began establishing the dam with different specifications, so we began to resort to other legitimate ways to maintain our share and our rights," the minister said.
"We must admit that the dam has damage to Egypt, and we are currently working to ensure that there is no serious damage to Egypt's share. We will not allow it. We are a desert country and we rely 97 percent on water from outside the border, whether it is the Nile waters or the underground water which is shared by Egypt, Libya, Sudan and Chad. There are differences, but they must end sooner or later so that each of us cares about the interests of the other," Ati said.
The Minister of Irrigation said, "Currently there are obstacles in the negotiations of the Renaissance Dam, and this is the nature of the negotiations in any case, and there are different methods of negotiation, and public opinion in Egypt is necessary to know the existence of obstacle."
Edited translation from Al-Masry Al-Youm