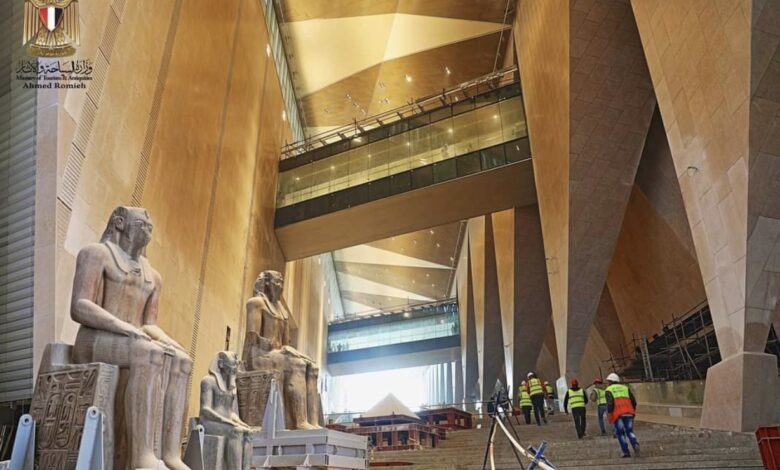 Work is in full swing to complete all works in the Grand Egyptian Museum and the surrounding area, Atef Moftah, the general supervisor of the Grand Egyptian Museum project and its surrounding area, confirmed, adding the total completion rate of works in the main building and the general site has reached 99.8 percent.
Work on the security and information systems is 97 complete, and on the security control building, the Hanging Obelisk Square, the external facades of the King Khufu Ship Museum, and the King Tutankhamun Hall is 100 percent complete, Moftah said in a meeting Thursday headed by Minister of Tourism and Antiquities, Ahmed Issa, for the Board of Directors of the Grand Egyptian Museum, at the ministry's headquarters in Zamalek.
The engineering works for the permanent exhibition halls have also been completed by 90 percent and work on museum display equipment, which includes a number of lanterns, bases for antiques, as well as installation units, construction of fences and security gates has also been 90 percent complete, he said.
Modtah also reviewed the latest business developments in relation to the file of providing and operating the museum's visitor services.
At the end of the meeting, Issa instructed reviewing the experience of visitors since entry until the end to ensure that it would be a distinct experience.
The Egyptian Ministry of Tourism and Antiquities announced in May that all works related to the Grand Egyptian Museum (GEM) will be completed on September 30, in preparation for its opening.
Construction and engineering works are due to be complete by June 30, 2022.
All the interior finishes, the commercial area, and the display areas will be completed by September 30, 2022.
The Grand Egyptian Museum includes 12 exhibition halls.
The museum will contain 100,000 artifacts, including 5,000 artifacts belonging to King Tutankhamun, including 2,000 artifacts fir the golden king displayed for the first time.
Constructed on an area of approximately 500,000 square meters, the GEM is located just two kilometers from the pyramids of Giza, and will house the world's largest antiquities collection belonging to a single culture's heritage.
The GEM is set to showcase 5,000 relics from Tutankhamun's collection as well — including 2,000 artifacts that will be displayed for the first time.
The museum was scheduled to open in 2020, but the coronavirus outbreak delayed the opening.