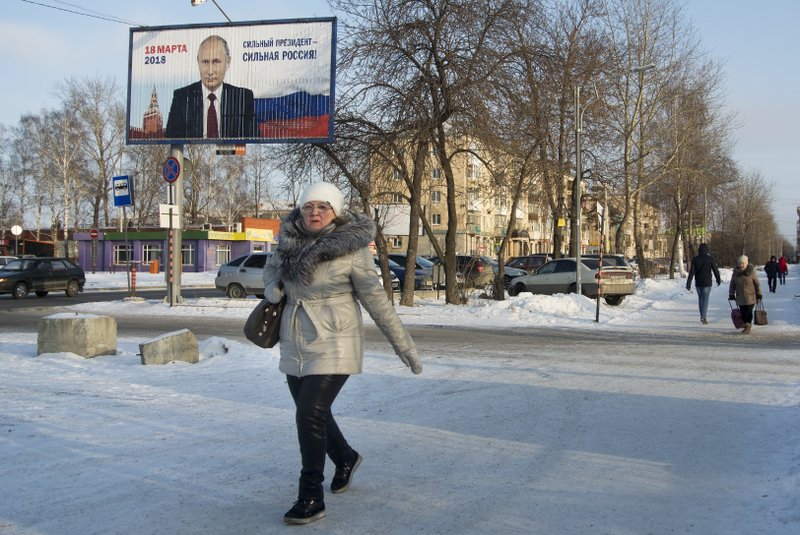 Yevgeny Solozhnin, a 61-year-old welder and Vladimir Putin supporter, is looking for a telephone number to call the Russian president and complain about the harsh wage cuts that halved his paycheck at the state tank and railroad car plant. Solozhnin doesn't blame Putin for this, he just wonders if Putin is aware of the trouble.
"We thought maybe we'd call and reach him," Solozhnin said as he hovered over a pot of borscht in his apartment in Nizhny Tagil. "People who are representing the government — they are spoiling things, they are letting Putin down."
The view of Putin as a good president misled by bureaucrats is widespread in Russia. Putin himself cultivates the image by maintaining a certain distance from United Russia, the party that is his power base; he's not a member and is running in the March 18 election as an independent. He is expected to visit Nizhny Tagil on Tuesday for a campaign event.
In the run-up to the last election in 2012, Nizhny Tagil became an emblem of fealty to Putin when the foreman at the Uralvagonzavod factory appeared on Putin's annual marathon call-in show and denounced the large protest rallies that had arisen in some Russian cities as a threat to the "stability" that is at heart of Putin's appeal.
"I want to say about those rallies: if our police can't work, can't handle it, me and the guys are ready to come over and stand up for our stability — but certainly within the framework of the law," Igor Kholmanskikh said.
"Do come over!" Putin responded, smiling.
Kholmanskikh's tough words led to Russian media dubbing Nizhny Tagil "Putingrad." In the election, the town's electoral district around the factory gave Putin about 70 percent of its vote.
These days, enthusiasm for Putin at Uralvagonzavod, the major employer in the Ural mountains city of 400,000, appears to be waning. Two of Solozhnin's sons, who also work at the plant, won't be voting for Putin like their father — one supports the Communist candidate and the other nationalist firebrand Vladimir Zhirinovsky.
As thousands of workers streamed out of the plant at shift's end on a recent workday, many laughed when asked if the city lives up to its "Putingrad" nickname.
Some, like 38-year-old Anton Udintsev, were dully resigned to Putin winning a fourth term — he will cast a ballot for Putin himself because "Who else is there to vote for?"
He acknowledged that the factory's pay cuts were difficult, "but it's okay."
Last fall, Uralvagonzavod sharply reduced its piecework rates. The company says the cut reflects new procedures that cut production time for each piece. Workers dispute that — Solozhnin said his January paycheck was just 30,000 rubles ($530), half of what he used to earn. Twenty-five employees in Solozhnin's workshop at the plant have taken the company to court for unjustified pay reductions. They lost two cases last month and are now preparing to lodge an appeal.
"We're not asking for a pay rise — we just want our money back," Solozhnin explained.
The factory was in poor financial condition when Kholmanskikh made his "me and the boys" pledge. But after Putin was elected — and after Putin appointed Kholmanskikh his envoy for the sprawling Urals that includes Nizhny Tagil — more government orders for tanks began coming in. But it still faces headwinds. The Freight One cargo company canceled an order for railway cars in December, saying that working with a company blacklisted by US sanctions over Putin's annexation of Crimea could jeopardize its foreign operations.
Solozhnin said the workers had appealed to Kholmanskikh for help but they now suspect he is a gatekeeper for Putin, "not letting our (pleas) through to him."
"We don't see the envoy and don't really know much about him," said Natalya Vakhonina, editor-in-chief at the local independent website Mezhdu Strok. "The farther we are from the moment when he was going to 'come over and stand up for stability' with his guys, the less … he visits here."
The AP's requests for an interview with Kholmanskikh went unanswered.
Like his father, 33-year-old Vitaly Solozhnin thinks Putin "is not noticing what is happening" at the factory, but draws a different conclusion about what that means in the election: he said he will vote for Communist Pavel Grudinin.
Putin, whose approval rating routinely hovers around 80 percent, is sure to win the election tally. But his backers are concerned that turnout will be comparatively low, which could take the shine off his image.
Solozhnin's eldest son, Maxim, stopped voting for Putin six years ago, after another round of pay cuts. He said that voter apathy due to mistrust of the government and the dominant United Russia party is widespread.
"I talk to the guys and they say: 'Max, what's the point in going (to vote)? It's all been decided for us," he said. "People were hoping that something could change… But the time has passed and the authorities, United Russia are still there and stealing money from us.
The elder Solozhnin admits that he sometimes feels swayed by his children's arguments against Putin.
"Sometimes I listen to my children and think: where are you, Vladimir Vladimirovich?" he said. "When the guys are standing in the shower … to be honest, people are cursing the government."